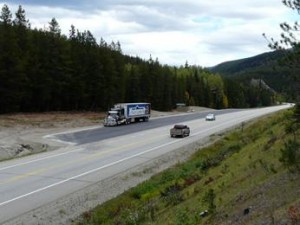 Handling extra large and heavy loads is easy for truckers entering B.C. on Highway 16, thanks to this roomy pullout.
The ministry built the paved pullout, 500 metres west of the Alberta border, to give drivers of oversize and overweight loads lots of space to do what they need to do. That might be to meet up with a pilot vehicle, check that their load is secure, get off the road in bad weather or take a required rest. Having the pullout just beyond the provincial border, also allows drivers to stop and make any changes needed to meet the permit conditions for their extra large cargo. (Sometimes, permit requirements differ from one province to another.) The spot can also be used to transfer a load, from an Alberta-based carrier to a B.C.-based carrier (or vice versa), for further transport.
The pullout's location is strategic. That's because Highway 16, with its high overhead clearances, is an established route for extra wide and extra long truckloads.
At 200 metres by 10 metres, the pullout provides plenty of room for freight bound for ports on the B.C. coast and various points throughout the province.
For truck drivers who use the pullout, the outhouse and trash barrel located there are also welcome features. Heavy haulers, who are restricted to travelling after midnight, could end up spending close to a day at the site. A smaller pullout, on the other side of the road, also offers an outhouse and garbage can. These additions to our highway system complement another extra-large pullout on Highway 16 near Mount Robson.
Providing pullouts, such as this, is one way the ministry continues to support truckers, keep roads and loads safe, and drive economic growth and trade. You could say, we're pulling for heavy haulers.
This story also translated into Punjabi.
Share this page: