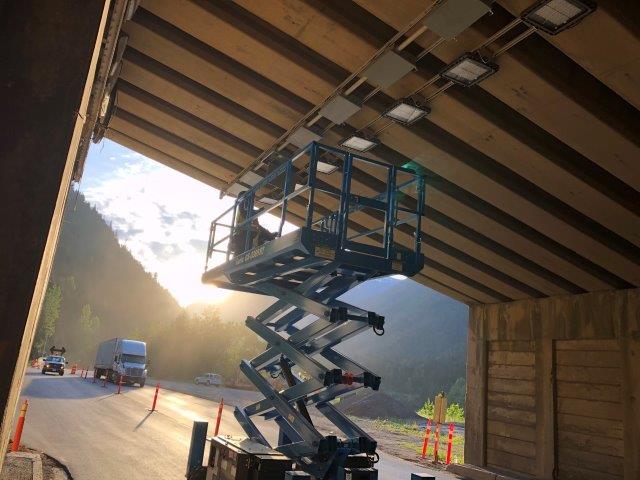 "Hey Google! Dim the lighting in our Rogers Pass snowsheds."
Talk about smart lighting! The outdated halogen lighting systems in the Jack McDonald, Lanark and Twin snowsheds in Rogers Pass on BC Highway 1 have been replaced with energy efficient LED lighting systems. But that's not all… the new lighting is part of an intelligent system that automatically measures the ambient daytime lighting outside the snowsheds and mimics it inside providing:
consistent lighting for drivers moving in and out of the snowsheds
reducing the potential for distractions
and increasing safety
How cool is that?!
To install the new system, a complete redesign of the lighting hanger system was required. The construction team scanned the concrete ceiling of the tunnels for anchoring locations and conducted numerous "pull tests" to ensure that the design was strong enough for all the equipment to be secure on the tunnel ceilings. Work also included the installation of light poles at the approaches and between the three snowsheds, as well as the construction of a building to control the lighting system.
In total the project spans approximately 1.8 kilometres, from the west entrance of the Jack McDonald snowshed to the east entrance of the Lanark snowshed, 46 kilometres east of Revelstoke.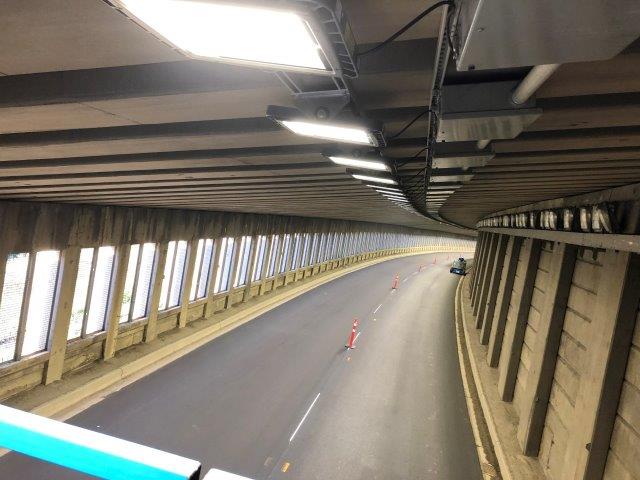 How Does the Ambient System Work?  
Tunnel lighting is operated by an intelligent control system that adapts the light level, or luminance, automatically. Special devices, called luminance photometers, measure the amount of light at the entrance points of each snowshed, as would be observed by drivers (each snowshed has photometers for each direction, so there are six photometers in total).
Based on these measurements, the system will determine the required dimming level and will communicate this to each luminaire controller to dim the luminaire as required, helping to reduce the "black hole effect" at the tunnel entrance.

Did you know?
When the Rogers Pass snowsheds were originally designed and built in the early 1960s, they had no internal lighting at all. In fact, it wasn't until the early 2000s, that the tunnels were retrofitted with a then state of the art halogen lighting system.
Have any questions about this, or any other work we do at the Ministry of Transportation and Infrastructure? Let us know in the comments below.
Share this page: