Engineers are a creative bunch by nature.
When faced with a challenging situation, their desire to find a solution is second only to the creativity and analysis they use to overcome that obstacle. The terrain of British Columbia has no shortage of dramatic and difficult terrain for our highway engineers and they are full of innovative solutions.
Engineers envision highways carved out of mountainsides and bridges that span awe inspiring gulches and make those visions a reality.  Some of their engineering feats are visible to everyone (think of the iconic Lions Gate Bridge or the impressive Squamish Pedestrian Overpass).  Then there are other marvels that give you the safety and support you need, without you even knowing they are there.
Here are four of our favourite unseen engineering feats on or near BC highways:
1. Known unofficially as the "Hollywood Bowl", this huge concrete supporting structure (seen above) was built in the 1960s during the construction of the Trans-Canada Highway. Check out the person standing at the bottom of the bowl for scale. Impressive, isn't it? From the highway there is no indication that you are travelling over this bowl; the only hint of what lies below is where our typical concrete roadside barrier changes to cast-in-place concrete barrier as you cross over.
2. Speaking of magnificent landscapes, the Kicking Horse Canyon portion of the Trans-Canada Highway (located between Golden, BC and   Lake Louise, Alberta) passes through some of the most breathtaking scenery in Canada. A part of the Highway 1 Four-Laning Program, this stretch of road provided engineers with a big selection of topographical challenges, some of which you might just cruise right by without even noticing.
For example, this innovative cantilever structure, built out over a bend in the Kicking Horse River eliminated the need for two separate bridges at the site. Cool stuff, don't you think?
3. From down low to up on high, the beautiful Park Bridge feeds motorists through "the cut" in the Kicking Horse Canyon stretch of Highway 1, near Golden.  This lofty structure is awe inspiring to say the least and the route is so seamless, you might not even notice what's below,  while you're travelling it.
4. Just off the Trans-Canada Highway on Vancouver Island is the historic Kinsol Trestle. Completed in 1920, this is one of the tallest free-standing and most spectacular timber rail trestle structures in the world. At 187 metres in length and standing 44 metres above the Koksilah River, the Kinsol is truly an incredible structure.  We worked with the Cowichan Valley Regional District and the federal government to rehabilitate the structure in 2011. It's now a key part of the Trans-Canada Trail on Southern Vancouver Island and a thrill for everyone to experience.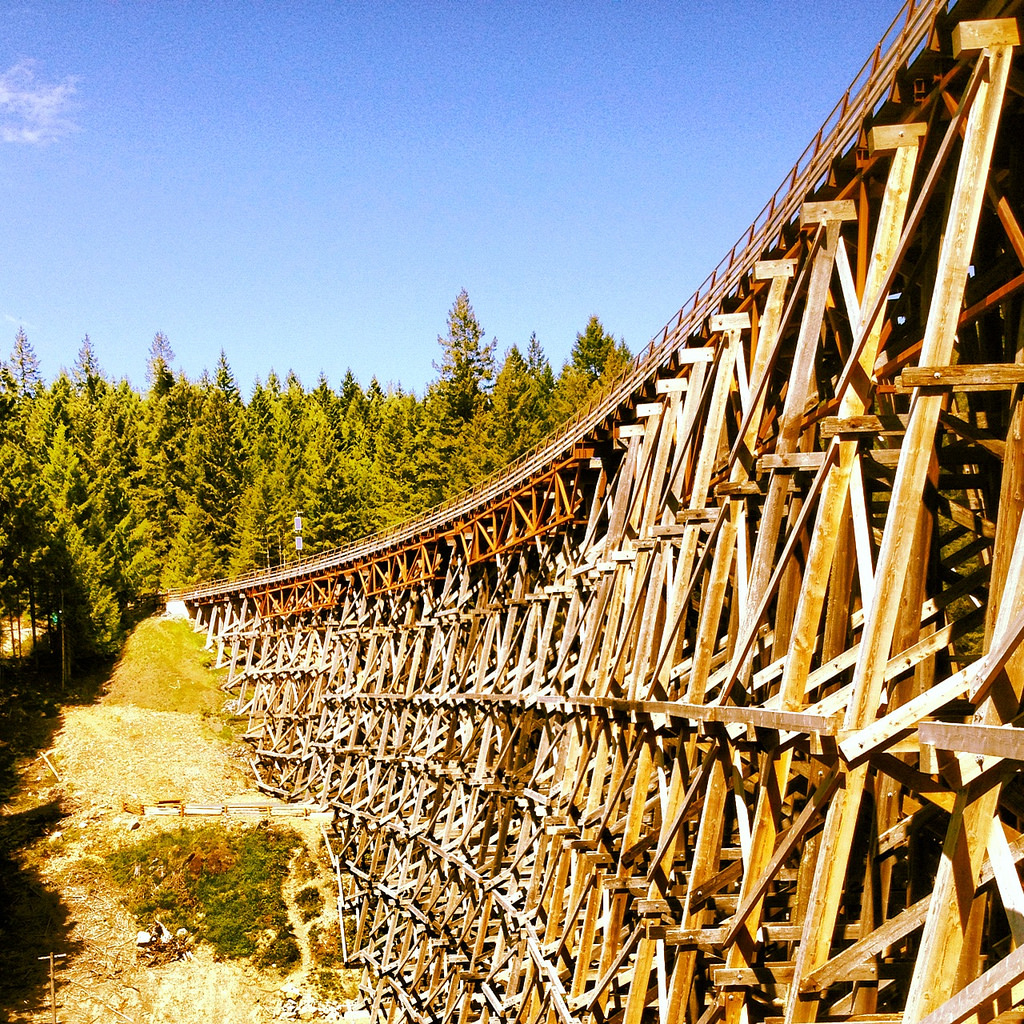 Do you have a favourite unseen engineering marvel in BC? Let us know in the comments below.
Share this page: