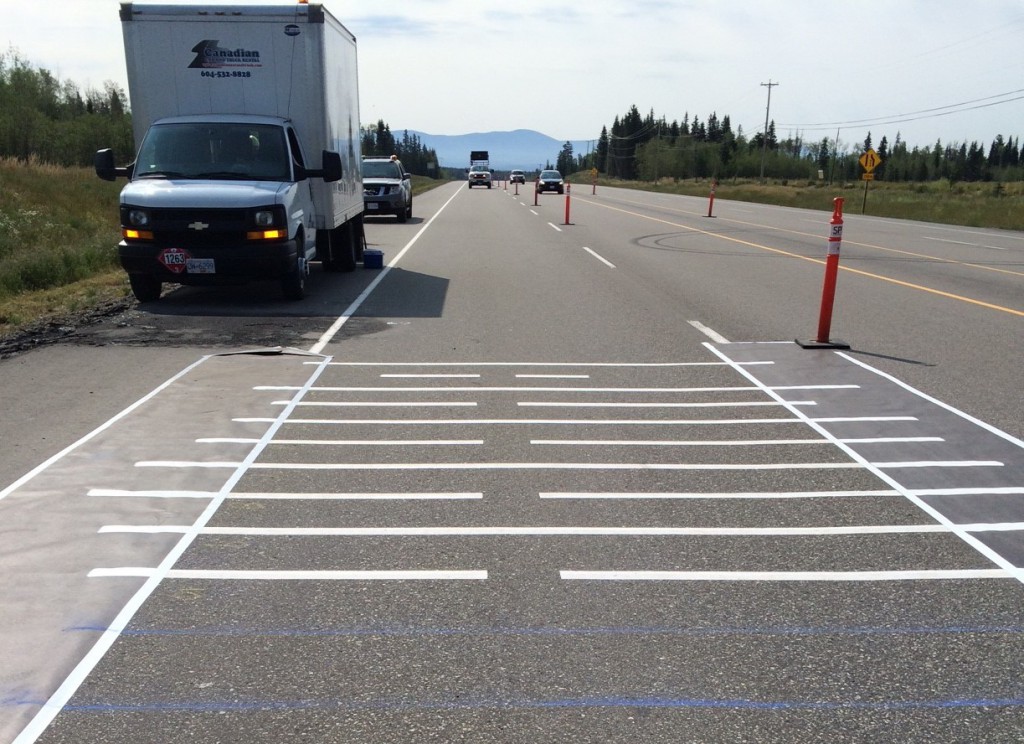 Do line-marking paints exist that will survive our challenging climates?
For the next year, we're testing line-marking paints, to determine which best weather the tough conditions on BC's highways.
How long will each paint take the scouring of winter abrasives (aka crushed stone and gravel)? Will it stand up under the scraping of snow plow blades, what effect will heavy rain, snow or slush have, and how long will it be before the weight and friction of vehicles dull its shine?
We'll be observing recently painted test lines and collecting data, to gain a better understanding of how the paints perform over their typical life cycle. The competition is on between 18 types of paint near Maple Ridge on Highway 7, Kamloops north of Halston Road on Highway 5, and Prince George on Highway 97.
The lines were drawn last month – four-inch wide horizontal strips of white and yellow paint, across one lane of each road.  Signs posted there, indicate that testing is underway.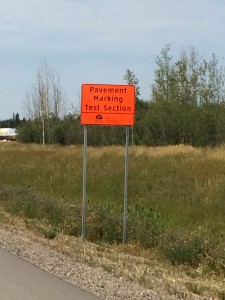 Paints have complex chemical formulations. Getting a better understanding of how the paints being tested work is important because we all love nice bright line markings. Highly visible lines make it easy for drivers to see where their vehicle needs to be, and good lane and road edge markings guide traffic and make our roads safer for everyone. Every year, our contractors repaint more than 30,000 line kilometres throughout the province, so the testing could potentially have a widespread effect across BC.
Part of the challenge is finding paint that has the best durability and most effectively holds onto the reflective glass beads it contains, while also meeting federal environmental standards for volatile organic compounds. Some of you might have noticed that pavement lines have become less visible, since oil-based paints were discontinued in 2010. (In fact, some of you have asked about the more worn lines).
Assisting us to see which paint delivers the best bang for the taxpayers' buck are our pavement marking contractors. They too are asking questions like, "How thick does the paint need to be, to do the trick?" and "How long does the shine in the line last?"
Stay tuned for the results, as the contestants in the line paint challenge show their stuff.
Share this page: