Planning on heading over the Coquihalla this summer? Head's up! A couple of construction projects may slow you down a bit. That's because we are working on improving parts of BC Highway 5 between Hope and Merritt from April to October, 2017. It sucks. We know. But it's for a good reason. We appreciate your patience. Here are the details:
First up – Box Canyon Chain Up Area Expansion
Northbound commercial vehicle traffic on the Coquihalla Highway is often required to chain up in advance of steep grades climbing to the summit during poor weather. During big storms or periods of heavy traffic, the current chain up area can become overwhelmed. That's why we're expanding the Box Canyon Chain up Area to accommodate up to 70 commercial trucks. Construction is already underway and includes the addition of new deceleration and acceleration lanes, as well as new washroom facilities and more parking. This larger chain up area will give truckers a safe place off of the highway and outside of avalanche paths to install and remove chains.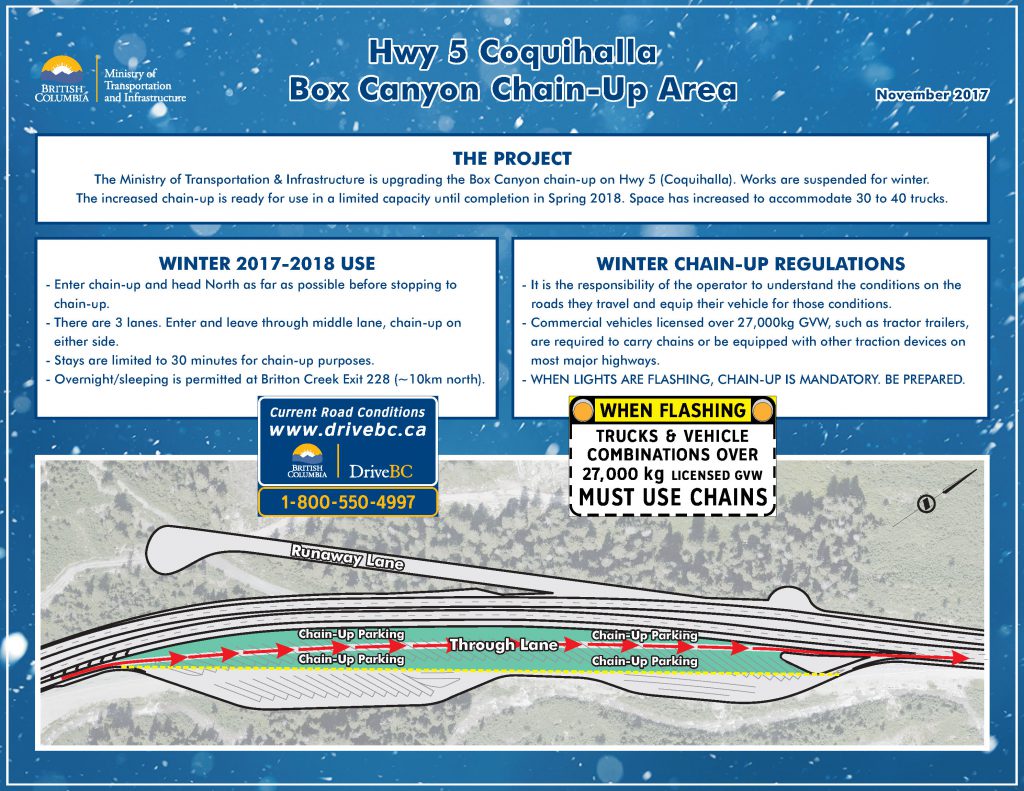 It's All Hands on Deck for the Dry Gulch Bridge Deck Replacement
This stunning structural steel arch bridge was built in 1985 as part of the Coquihalla Phase 1 construction, and this project is the first major rehabilitation on the structure in over 30 years. We've scheduled deck resurfacing of all four lanes and replacement of abutment bearings and expansion joints between April and October of 2017 and because we will have to shut down parts of the bridge surface to do the work, travellers may experience a bit of a pinch point here. Because the bridge deck width will be decreased during rehabilitation, during peak hours, vehicles 3.2 m or wider will have to take an alternate route or travel at another time of day. These restrictions will be signed entering the corridor as well as on DriveBC.
Check for Updates
Our goal is to keep you moving as smoothly as possible but please be aware that you may experience delays, particularly during long weekends or during peak-travel times. When delays do occur, they could be 30 minutes or longer. We'll be communicating delay times on our overhead messaging boards outside of Hope and Merritt and on DriveBC as well as pictures and video of project progress on our other social media channels so, if you aren't tuned in to us on Twitter or Facebook – now's a great time to start! We'll keep you updated as work unfolds.
Just to keep things interesting…
BC Highway 5 is a divided highway which makes it difficult for motorists to turn around once stopped. If delays are significant on the Coquihalla, we will do our best to make sure you know before you head up the hill.  There are alternate routes you can take instead of the Coquihalla, but bridge work on Highway 1 in the Fraser Canyon and on paving near Princeton on Highway 3 during the summer may also mean delays. We think that this minor pain for long term gain will be worth it and we hope you agree. If you have any comments or questions about this or any other work we do, let us know in the comments below.
Share this page: