Our 170 BC Rest Areas are the perfect spot to refresh and recharge before heading out on the highway, and they are about to get a whole lot better.
Since the beginning of 2016, we've been working closely with the BC Trucking Association on the BC Highway Rest Area Survey and report. We wanted to get the voice of the trucking industry – what they like and what they don't like – about rest areas in the province. Their input is important to improving rest areas for everyone.
In total, 835 people took part in the survey. Of those, 72% were long-haul drivers, 19% were short haul drivers, and 9% were local delivery drivers.
Truckers Told Us What They Really, Really Want
Truck drivers were loud and clear about the improvements they want us to make, to create safer, cleaner and more convenient rest areas. These include:
Upgrading restrooms to flush toilets, creating more truck parking and installing improved lighting.
Adding new rest areas.
Offering commercial services at rest areas, like service stations, shower facilities, convenience stores, restaurants/diners, fast food restaurants and other amenities.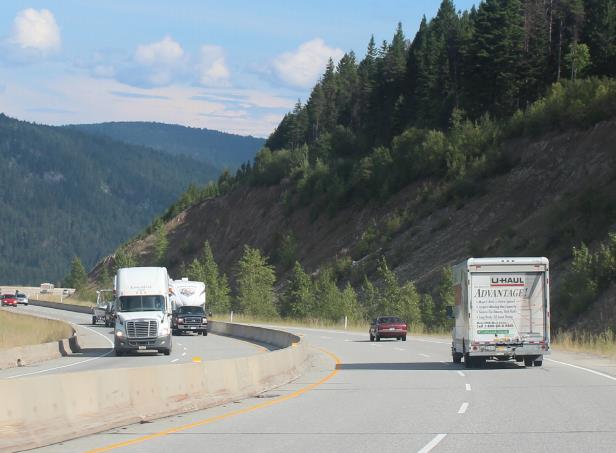 How We're Responding to Truckers' Needs
Rest areas are essential, particularly to long haul truckers who have mandatory hours of rest, to stay safe on our roads. These improvements are coming over the next three years, as part of our new Provincial Trucking Strategy in B.C. on the Move:
Enhancing existing rest areas by upgrading washrooms to flush toilets, improving lighting, adding more picnic tables, and increasing accessibility and capacity.
Building a new Class A rest area at the Loon Lake Interchange on Highway 97C (Okanagan Connector) between Merritt and Kelowna. This rest area will have heated restrooms with running water and flush toilets, separated parking areas for buses, commercial trucks and recreational vehicles, and lots of parking for commercial trucks.
Looking into commercial services at rest areas, by issuing a request for information on BC Bid, to gauge industry interest in providing goods and services at BC rest areas.
We will be offering free WIFI at select rest areas across the province. In total, 25 rest areas throughout the province will have Wi-Fi installed. The following rest areas will have Wi-Fi installed by the spring of 2017, with the additional 20 sites being delivered in the coming years:

Britton Creek  Highway 5 – 67 kilometres south of Merritt
Mt Terry Fox   Highway 16 – 6km east of Tete Jaune
Galena Bay      Highway 23 – 49km north of Nakusp
Glacier View   Highway 16 – 7km north of Smithers
Taylor River    Highway 4 – 37km west of Port Alberni
BC's mountains, rivers, oceans and deserts make road trips here a wonderful thing. The province's awesome size also means highway travellers of all kinds need places to take a break, to help them stay alert on their journey.
Do you have a question about BC Rest Areas that we haven't answered here, or any other transportation related question? Let us know in the comments below.