LATEST UPDATE: this public engagement is no longer open
Our province has so many stories to tell; historic, impactful stories that show the diversity, pride, quirkiness and impact of British Columbia's people, places and historical events. To share those stories, we're refreshing and rejuvenating the BC Stop of Interest signs…and we need your help.
We're looking to take this on in two ways; first, to renew some of our older signs, and second, to create new ones that reflect the local stories and cultures that are part of British Columbia.
Why the Refresh and Why Now?
We did an inventory and a review of the 139 existing signs last year (fall of 2015) and found 75 per cent of them either require repairs or reinstallation. In some cases, they need to be replaced because the language is out of date. Really, really out of date. So we'll work to update these signs and start replacing them this fall.
Your Suggestions Here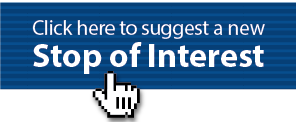 We're also asking you to provide your suggestions for about 75 new signs, sharing your local stories that mark a special place in BC's history. It's a great way to demonstrate our provincial pride, to enrich the trip for travellers, and show off BC as a premier tourism destination and great place to do business.
Visit the website and nominate places, events or people that you think could be showcased. (In the case of people, they must have been deceased for 30 years). Give us the essentials — the who, what, when, where and why of the story. Attaching scanned photos or other supporting documents will also help us review your suggestion. We're accepting submissions from Sept. 26, 2016, to Jan. 31, 2017, to make sure you have your say in that time.
What We're Looking for in New Stop of Interest Signs
Once you share your suggested story, it will be reviewed by a panel based on specific criteria. These include:
Completion of the online form explaining your reason for the nomination.

The impact the person, place or event has had on the lives of British Columbians.
What makes this an interesting stop of interest — any extraordinary circumstances or challenges the person, place or event has faced.
If it's an individual, they must have been deceased more than 30 years.
How it's of outstanding interest to the travelling public, both tourists and British Columbians.
A consideration that new signs are evenly distributed around the province, between all regions.
A Little History
The Stop of Interest signage program was introduced in 1958, to commemorate the Colony of BC's centenary and recognize significant historical places, people and events. More than 100 signs were erected from the 1950s through the 1990s. Click for a map listing Stops of Interest signs.
We're really looking forward to hearing your suggestions and to your help to kickstart this program, and show off why BC is such a colourful place to live and visit.