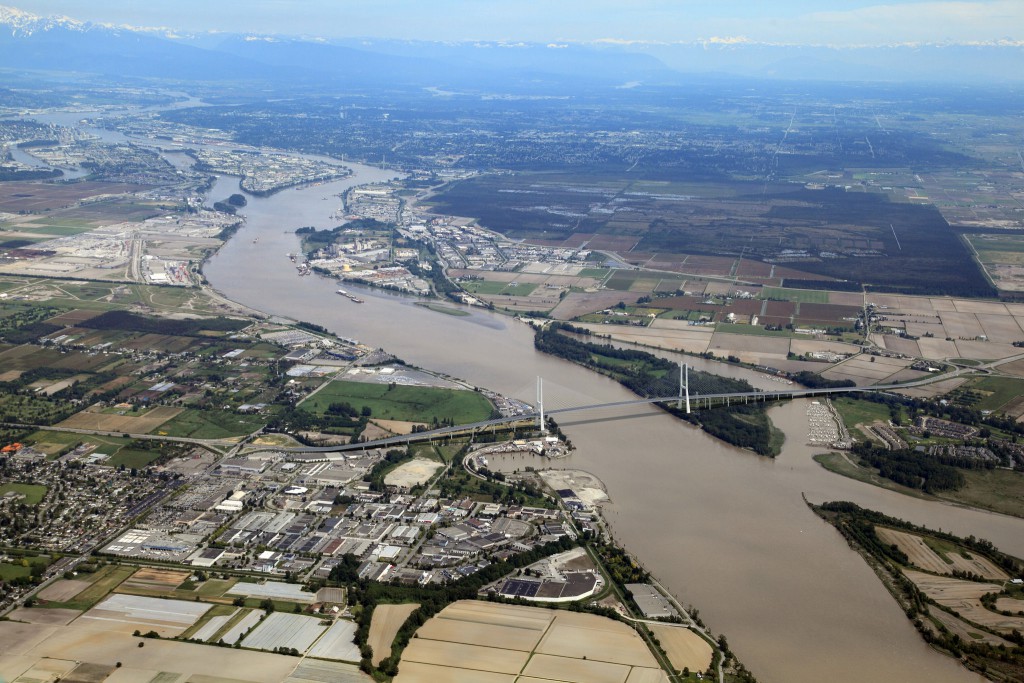 Today we kicked off the third phase of consultation on the George Massey Tunnel Replacement Project and released some designs and details of the big project, which will see a new 10-lane bridge built over the Fraser River at Highway 99.
And it will be a BIG project. Here's the breakdown:
The bridge will be approximately three kilometres long, with four general travel lanes in each direction
One dedicated transit/HOV lane in each direction of Highway 99, from Highway 91 in Delta to Bridgeport Road in Richmond, tying into existing infrastructure
New interchanges at Highway 17A, Steveston Highway and Westminster Highway
Widening approximately 24 kilometres of Highway 99
You can share your feedback and help finalize the plan for this project. The public consultation is open until January 28, 2016 so check out www.masseytunnel.ca for details. There is also a project overview fact sheet available.
But first, questions. And with any project, there are lots of questions, so here are the answers to many of the frequently asked ones:
 Q: Why are we doing this?
A: Two reasons actually. First, it's time. the George Massey Tunnel has about 10 years left before major components like the lighting, ventilation and pumping systems need replacing, not to mention the tunnel does not meet current seismic standards. The new bridge will serve as a lifeline for communities in the case of a significant seismic event and it'll serve current and forecasted future demands for travel for decades.
Second, it'll address concerns around growing congestion, and its impacts, as the populations of Richmond and communities south of the Fraser River keep growing. This is BC's biggest traffic bottleneck, with wait times already not great and only estimated to get worse.
Bottom line, we're doing this because doing nothing is not an option – we've heard this loud and clear from you over two rounds of consultation and throughout the last two years of developing the Project Definition Report and business case.
Four more reasons on "why we're doing this"…
Environmental Benefits: the bridge will remove more than 1,000,000 hours of idling vehicles a year and make transit and HOV travel more convenient. This includes dedicated transit ramps at Bridgeport Road with direct transit access to and from Canada Line at Bridgeport Station. The project has also been designed to include space to accommodate future rapid transit.
Safety Improvements: the bridge design includes modern seismic standards; additional lanes that make merging safer for all vehicles and an estimated 35 per cent reduction of collisions; and wider lanes and shoulders to improve safety and emergency response times.
Saves Time: the bridge will cut some commute times in half and improve travel time reliability for the 10,000 transit passengers and 80,000 vehicles that use the tunnel each day.
More Access: for the first time ever at this location, pedestrians and cyclists will be able to cross the river, as the new bridge will include a multi-use pathway.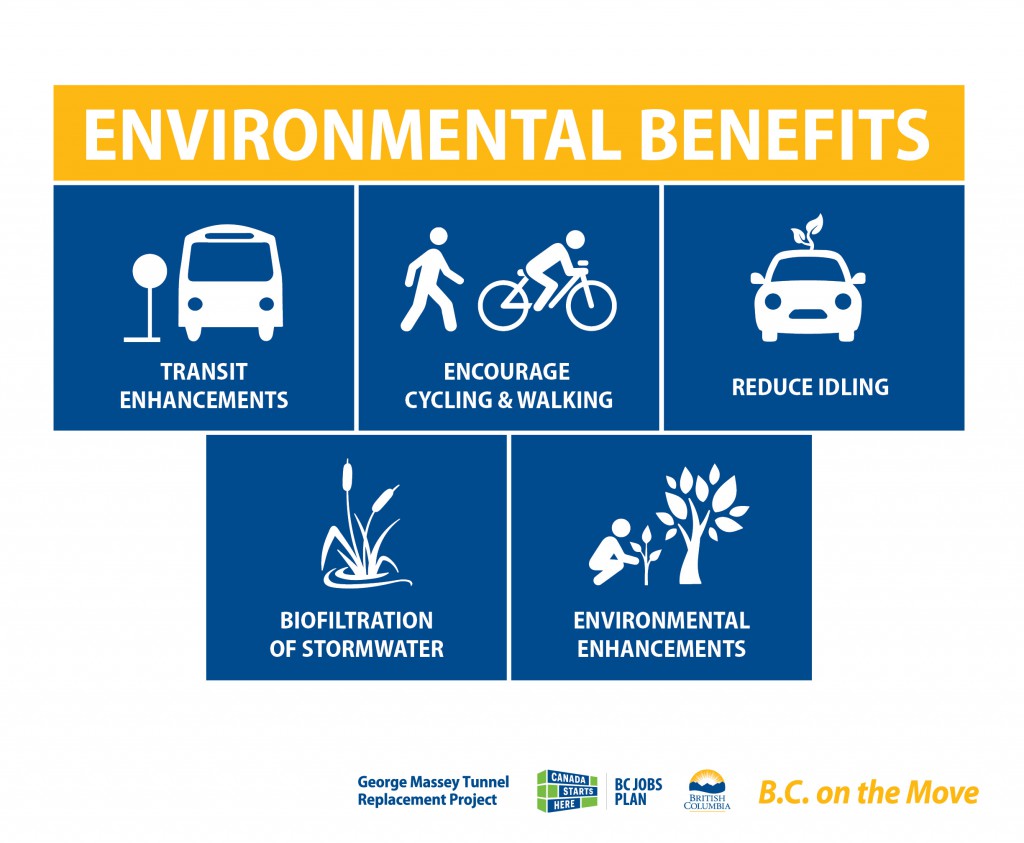 Q: How are we paying for this thing?
A: We intend to fund the project through tolls, as well as looking for a federal government contribution. With seven years until the project is done, we'll be working to ensure the toll will be as affordable as possible for motorists. At this point, we expect the toll on opening will be comparable to the toll rates on the Port Mann Bridge. If you'd like to provide feedback about the decision to toll, please do. That's part of this consultation. You can drop by our project office in Richmond, attend one of the public sessions in January 2016, or provide comments online at www.masseytunnel.ca
Q: How long will it take to pay for the bridge through tolls?
A: It depends on the final cost (Which we'll know once we have all our building contracts in place. Current estimate is $3.5 billion), availability of federal funding or other sources, prevailing interest rates, the toll rate and actual traffic volumes. For example, our forecasting indicates the Port Mann Bridge, which is funded strictly through user tolls, is on schedule to repay within 40 years. Once capital costs are finalized and all funding sources are secured for the new bridge, we expect to be able to achieve a similar time frame for repayment of this project.
Q: How will the toll affect traffic on the Alex Fraser Bridge?
Well there's two ways of looking at it. Our analysis suggests that if the new bridge is tolled, some people will divert to the Alex Fraser Bridge to avoid paying the toll, particularly on evenings and weekends when the Alex Fraser isn't congested. On the other hand, because the Alex Fraser Bridge is already congested during rush hour, our analysis suggests that some people who use the Alex Fraser today would shift to using the new bridge to beat the queue and save time in their daily commute. That's the experience from other tolled crossings, and it's what happened on the Port Mann Bridge as well. To use the Port Mann as an example: overall traffic volumes dropped with the introduction of tolls, but rush-hour traffic volumes increased by more than 15%. We're now seeing traffic volumes on the Port Mann steadily growing.
Q: Won't the bridge just move the bottleneck to Oak Street?
We recognize that concern, given that Oak Street into Vancouver is already congested during rush hours. We'll be working with other parties over the long term, including the City of Vancouver, to see what we can do to help address this bottleneck as part of the overall planning process. It's important to note that 60% of northbound morning traffic through the George Massey Tunnel stops in Richmond and we don't expect that to change.
Q: Why not build a new tunnel?
A: A new tunnel would cost more (A lot more: hundreds of millions of dollars if built to the same standards as the new bridge), impact agriculture, park land and private property, carry more construction risk, and isn't what you told us you wanted, according to our consultations. We presented five options for input during our second phase of consultations, including a second tunnel, and the preference was to build a bridge on the existing alignment. You can read more about why a bridge was chosen here.
Q: What about the environmental impacts?
A: A new bridge will have less impact on private properties and require less agricultural, residential and commercial land than a new tunnel because it can be built over top of the tunnel instead of beside it. The bridge can also be constructed with minimal disturbance in the Fraser River, as the main piers will be at the edge of the river. We also anticipate building a bridge may result in returning some surplus highway right of way to farming.
As well, we're doing an environment assessment on the project, which reviews potential effects of the project on the environment and ways to mitigate them. This will include noise levels and visual impacts.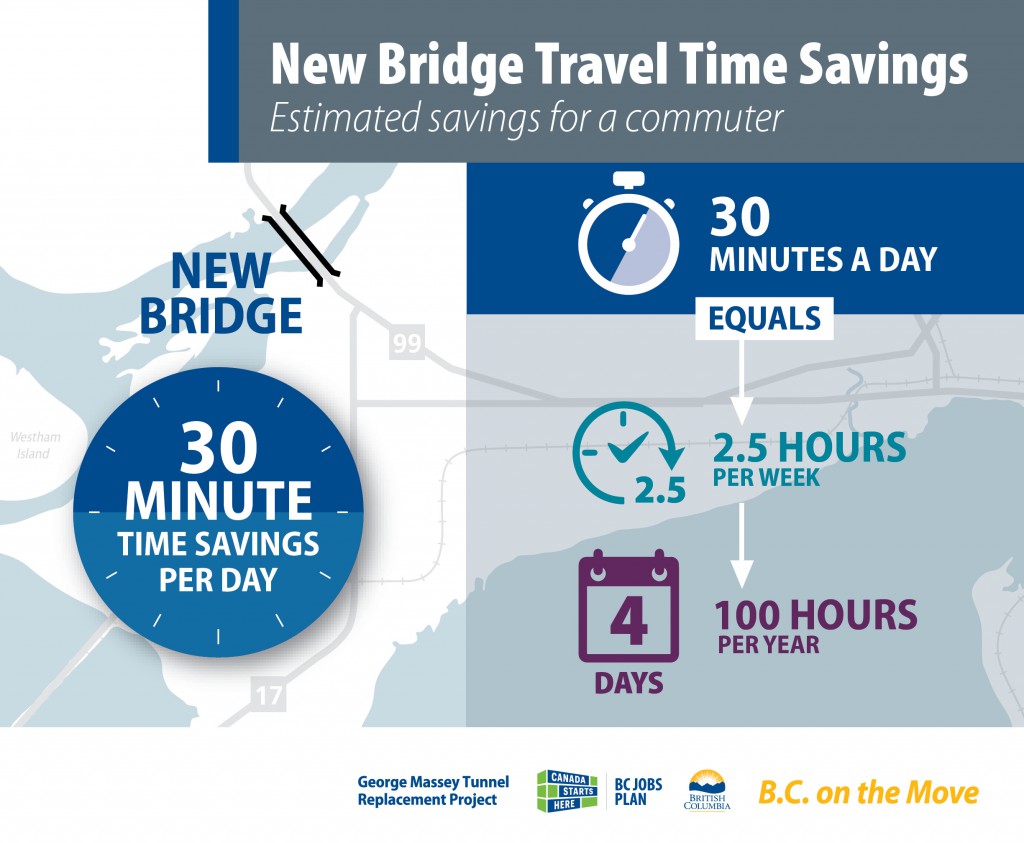 Q: You say you want to hear from us, but what difference would public comment make?
A: We will consider the feedback we receive along with ongoing technical analysis to finalize the project scope and cost estimate. We'll also consider feedback on tolling as a funding mechanism as we continue working with the federal government and others to finalize project funding sources. Feedback will also help us in developing potential project commitments for mitigation measures. Plus, your comments will be really helpful in designing a construction traffic management plan as we work with the selected contractor to ensure Highway 99 remains open.
As we move further along in the consultation and finalized planning process, we're sure there will be lots more questions. Let us know and we'll be happy to look into them for you. In the meantime, please take advantage of the current public consultation. You can also check out our Flickr set to get a better visualization of our vision.
There are a number of ways for you to provide feedback:
Complete the online feedback form available at masseytunnel.ca
Visit the Project Office at 2030 – 11662 Steveston Highway (Ironwood Plaza) in Richmond, B.C., open Monday to Friday from 8:30 a.m. to 4:30 p.m., or by appointment.
Email: masseytunnel@gov.bc.ca or phone 1.8.555.MASSEY (1.855.562.7739).
Sign up at masseytunnel.ca to receive project updates by email and notification of future engagement opportunities.
 There will also be public open houses scheduled for January 2016. We'll share additional information when dates and locations are confirmed.
Share this page: