If you are unable to view this video, click here to watch on our YouTube channel.

We're big fans of the maxim: "drive to conditions." Highway travellers improve their safety dramatically by following those three words, especially in winter.
Our highway engineers set speed limits based on IDEAL driving conditions – think bare, dry roads and warm, clear weather. Once factors mess with these conditions – be it fog, rain, snow… whatever – drivers should adjust by slowing to a sensible speed.
Now, you may have noticed crews installing new signs on sections of the Coquihalla, the Trans-Canada, and the Sea to Sky Highway. These are digital variable speed signs, part of a pilot project to reduce weather-related crashes by helping drivers know when to slow down, depending on current conditions.
How Many, and Where?
Highway 1 from Perry River to Revelstoke (18 signs)
Coquihalla from Portia Interchange to the former Toll Plaza (13 signs)
Sea to Sky from Squamish to Function Junction, Whistler (16 signs)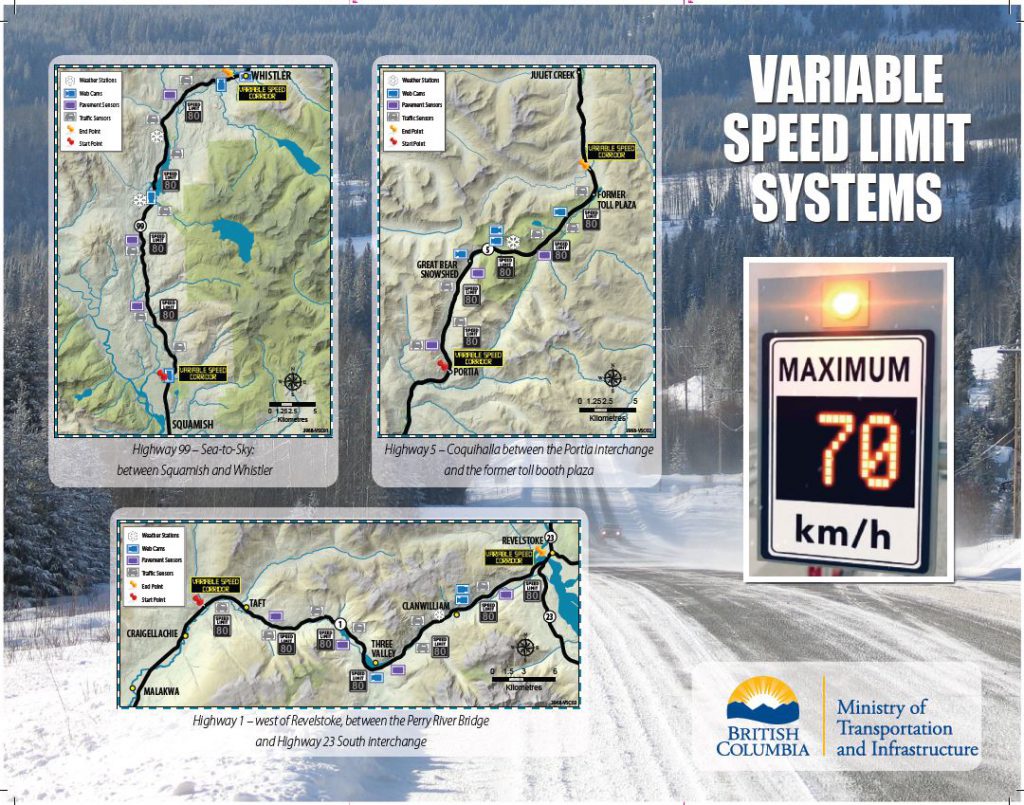 How Do They Work?
There will be a system of traffic, pavement and visibility sensors set up to detect conditions and provide operations staff with recommended speeds. BC's weather changes quickly, especially in high elevation mountain passes; operations staff will continuously monitor the conditions information and adjust the digital variable speed signs accordingly. Overhead message signs will let travellers know when they're entering a variable speed zone, and warn drivers to be aware of changing weather conditions. Variable speed limits will be enforceable by police.
The Importance of Testing
We need the system's accuracy to be spot-on before travellers can see the digital signs. Once everything is installed (poles, signs, optical sensors), we will spend two to three months testing and refining with the signs covered. We anticipate the system will be ready to go live by early 2016.
The variable speed limit pilot project is part of the Road Safety Improvement Program included in BC on the Move, the ministry's 10-year Transportation Plan.
What do you think about the variable message sign pilot project? Do you think it will help you Shift Into Winter? Let us know in the comments section below.