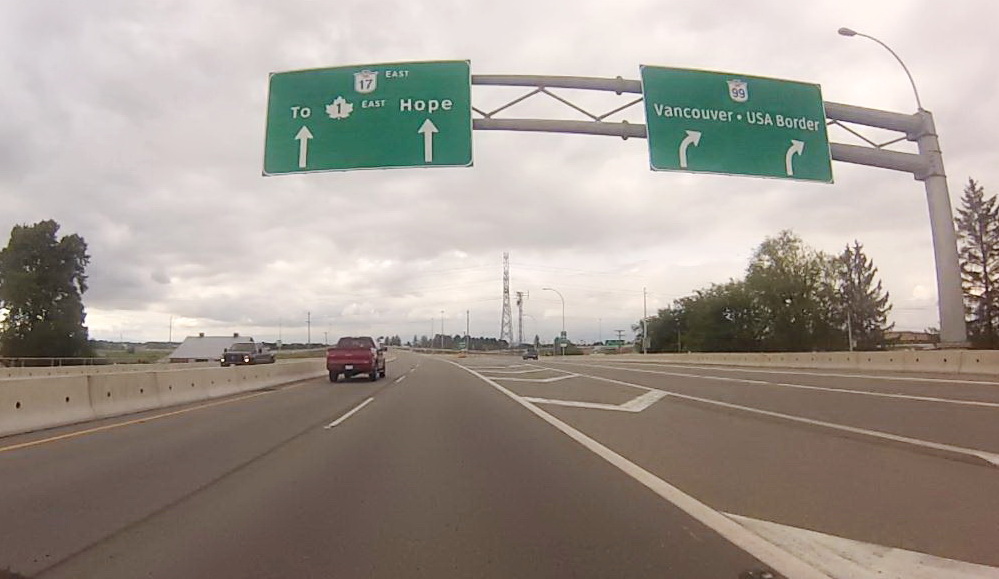 The South Fraser Perimeter Road (SFPR) is a new major provincial highway, and building it triggered travel pattern changes. Many of the original signs show local street names to help drivers with navigating the new highway and side road connections. Since opening the highway, about 18 months ago, we've been gathering feedback from you. Much of that feedback has to do with challenges understanding these signs.
We heard you, and we're using your input to make changes.
Using your comments and suggestions, we plan to complement local street name information on many of these signs with information aimed at directing travellers to surrounding municipalities, bridge crossings, and other key destinations.
To help explain the changes that we'll be making over the next few months, we've compiled some questions from you and answers from us.
Q. Driving north from South Delta, there is an exit sign that reads "Vancouver – USA border." It's technically accurate, since the lane splits a short distance further, but also confusing, since the two destinations are located in opposite directions along Highway 99.
A. This sign is placed to advise motorists that they are exiting one highway to access another that runs north-south. The additional signs that are in place after the exit direct motorists to their desired destinations on Highway 99. We will add other destinations including "Richmond" and "Surrey" to the exit sign to indicate that multiple locations can be accessed from this exit.
Q. The interchange of Highway 91, Highway 17 and the Alex Fraser Bridge is almost certain to tie you in knots.
A. Street names were previously mixed with destinations on overhead signs when the new highway opened to help motorists become familiar with the new street connections. We will install new sign messaging that will include New Westminster, North Delta, Richmond and Vancouver, as well as the Alex Fraser Bridge, to help direct drivers.
Q. Have you tried to find the City of Vancouver landfill in Delta via Highway 17? Good luck with that. Heading north from South Delta, you'll encounter a sign to the dump but it's impossible to access due to a line of concrete barriers.
A. The Vancouver Landfill exit sign referenced here is intended for traffic next to Highway 17, so the sign will be lowered and repositioned so Highway 17 travellers don't mistake it as meant for them.  We will also place additional signs to the Vancouver Landfill corresponding with the City of Vancouver's preferred routes (as is referenced on the Vancouver Landfill website).
Q. There are no signs telling drivers to turn right onto Scott Road to access Highway 17. There are no signs on Scott Road indicating Highway 17 runs parallel only metres away.
A. Signing for Highway 17 from Scott Road falls under the jurisdiction of the City of Surrey. We have contacted the municipality and will continue to work with the city regarding these concerns.
Q. On Highway 17 approaching the Pattullo Bridge there are no signs telling you to turn right onto Tannery Road or Old Yale Road to access Scott Road.
A. We have consulted the City of Surrey on this. Tannery Road, rather than Old Yale Road, is the municipality's preferred route to access New Westminster from Highway 17 eastbound via Scott Road.  We will add signing on Highway 17 before the Tannery Road Interchange to direct New Westminster traffic to Pattullo Bridge. We'll also work with the City of Surrey to add signs on their municipal road network.
Q. The signs directing drivers from the airport to Burnaby/New Westminster—or even to Highway 91—are non-existent.
A. We will be making improvements to signing indicating the next municipality along a route to help with navigation in the Lower Mainland.  From the YVR Airport in Richmond, we will add signing to adjacent municipalities, including: New Westminster, Vancouver, Surrey and Delta, as well as Highway 91.
Q. If one is heading eastbound on Highway 17 and wish to go to Surrey or Langley, where does one turn off? Only those who know the area know to turn at Highway 99. But the sign says Vancouver/USA border — no mention of Surrey or Langley.
A. The preferred routes to Surrey and Langley were determined following consultation with those municipalities. Signing to Surrey from Highway 17 is currently provided at Bridgeview Drive. Signage to Langley is currently provided from Highway 1 at 200th Street. We recognize there are regional benefits to providing alternative route messaging where multiple highways service municipalities with large geographic boundaries. So, additional signs will be installed on Highway 17 eastbound to indicate alternative routes to Surrey via Highway 99 south and Highway 17 east. Also, additional signing to Surrey and Langley via Highway 10 will be provided from Highway 99 southbound.
Thanks to everyone who took the time to send feedback about SFPR signage. Knowing your driving experiences is an important part of refining any new highway.
Our provincial highway network signs are essential to the safety of the traveling public. Our goal is to provide directions in a clear, concise and consistent manner.
Share this page: