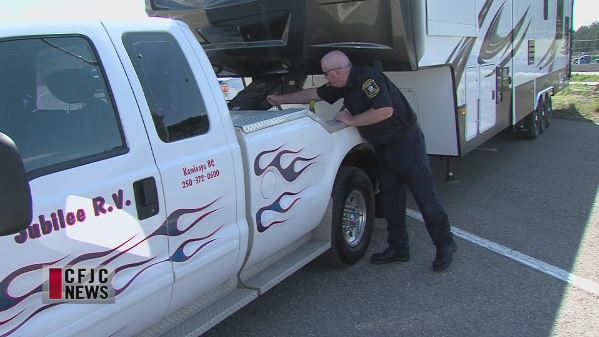 The all-important pre-trip inspection was one of the hot topics when Commercial Vehicle Safety and Enforcement (CVSE) officers hosted a "Know Your Recreational Vehicle" safety education event in Kamloops on May 2, 2015.
There's a lot to know about your RV. Once you've mastered your RV's specifications – including everything from towing requirements to load capacity – it's essential to stay on top of your vehicle's condition with regular pre-trip inspections. You want to catch any safety defects or potential mechanical problems before they impact you and your family on the highway.
At the Kamloops event, officers handed out printed copies of ICBC's Towing a Recreational Vehicle guidebook. In it, there's a section dedicated to performing a thorough pre-trip inspection, complete with handy checklist. From testing trailer brakes to checking fifth wheel and other trailer hitch connections, this guide has you covered.
We're considering hosting future RV safety and education events around British Columbia, and want to hear from you. Is this something you'd find useful in your community? If so, please let us know in the comments section below.
Happy RVing!
Share this page: