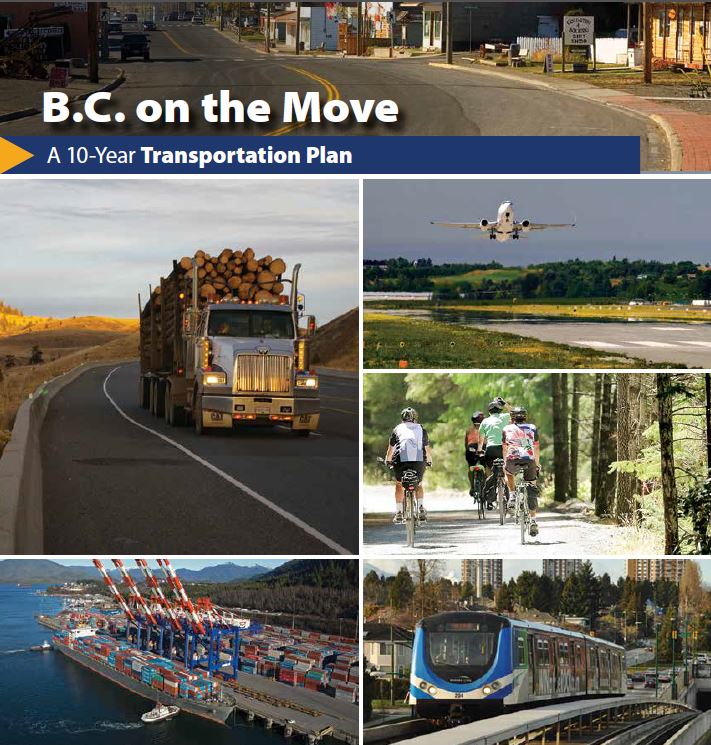 Last year, from October to December, we asked you to tell us what the transportation priorities should be for BC over the next 10 years. We call it BC on the Move.
And you responded. A lot. It was fantastic.
This included:
44,000 visits to the website
12,500 surveys completed
100 meetings with 550 representatives of First Nations, local governments, chambers of commerce, ports and airports and various other stakeholders.
A very busy Twitter Town Hall
70 meetings on Vancouver Island by our transportation ministry's Parliamentary Secretary Jordan Sturdy around the needs of island communities.
First, thanks. Thank you for being a part of the BC on the Move initiative and sharing what's important to you. The amount of interest and engagement was amazing and only helped the ministry in crafting this 10 year plan.
Second, we heard you. From the thousands of survey responses, the top priorities for you were:
95% said keep highways, bridges and side roads in good condition.
87% said expand and increase transit services.
73% said expand highway capacity and upgrade key highways and bridge to facilitate heavy hauling.
72% said enhance cycling infrastructure and improve transportation choices.
70% said support regional and small community airports.
So let's get to it. Here are the 12 key priorities you helped us define:
Rehabilitating Highways, Bridge and Side Roads
Highlights: major investment to resurface 1,000 kms of provincial highways annually; a 50% increase in bridge rehab funding; up to 30 projects annually to improve provincial side road conditions; up to 20 projects a year to upgrade northeastern BC roads to support the natural gas industry; and a 3 year investment for new and upgraded rest areas.
Improving Highway Safety
Highlights: a double in funding for a new "Road Safety Improvement Program" that includes avalanche infrastructure, community safety improvements, and the installation of variable-speed-limit signs; investment in intersection safety improvements; and upgrade driver information systems like DriveBC and highway webcams.
Improving Highway Capacity and Reliability
Highlights: A big investment ($1 billion) over the next 3 years to upgrade our highway network, including: Highway 1 from Kamloops to the Alberta Border, Highway 97 in the Okanagan Valley, Highway 3 Crowsnest, Highway 5 Yellowhead, Highway 97 Cariboo Connector, Vancouver Island and Lower Mainland Highways, and Northwest BC Highways #16, #97 North and #2.
Delivering a Provincial Trucking Strategy
Highlights: upgrade and replace bridges and overpasses to accommodate heavier and larger loads industry needs to move, including 10 major bridges in the interior and northern BC; streamline permitting and reduce the number of truck permits required; and construct 10 new truck-inspection pullouts throughout BC.
Investing in Transit
Highlights: provide BC Transit $312 million in operating contributions over the next 3 years; work with local communities to replace half of BC Transit's fleet (about 500 busses) over the next five years; and  work on a design to extend the Douglas Street bus lanes from Tolmie to Uptown in Victoria.
Investing in Cycling
Highlights invest $18 million over the next 3 years to build new bike lanes and trails; and widen shoulders, double the frequency of sweeping and implement safety improvements on provincial highways in areas with large amounts of cyclists.
Investing in Airports
Highlights: invest $24 million in the new BC Air Access Program, which will help community airports access millions in funding over the next 3 years; and support development of the aviation industry near airports.
Enabling Efficient Ports and Rail
Highlights: invest in infrastructure that helps access to ports and increase container handling capacity and continue to work with stakeholders to determine how best to support Liquefied Natural Gas (LNG) facilities.
Sustaining and Renewing Ferries
Highlights: continue to pursue strategies to achieve a vision of an affordable, sustainable, and efficient coastal ferry service, including support BC Ferries' move to LNG, alternative technologies such as the new cable ferry to Denman Island, and its new reservation system;  and continue to renew inland ferry assets.
Building Partnerships with First Nations
Highlights: partner with First Nations on projects that support economic development on their lands; and help with more employment and training opportunities for First Nations through our ministry's major projects.
Improving Accessibility
Highlights: upgrade rest areas across BC to improve accessibility for persons with limited mobility, including curb letdowns and accessible washrooms; and increase the number of wheelchair-accessible taxis in communities around BC; and partner with Translink to make additional accessibility upgrades to SkyTrain stations.
Protecting the Environment
Highlights: invest $6 million over 3 years to conserve habitat and improve fish and wildlife protection; invest $3.9 million over 3 years to deliver invasive plant management programs; and continue to invest in transit and cycling programs.
Of course this is just a summary of some of the highlights from the BC on the Move plan. If you'd like all the details and actions to come, check out the full report. We'll also be adding to this blog any future announcements that fall under our 10-year transportation plan.
BC on the Move updates: