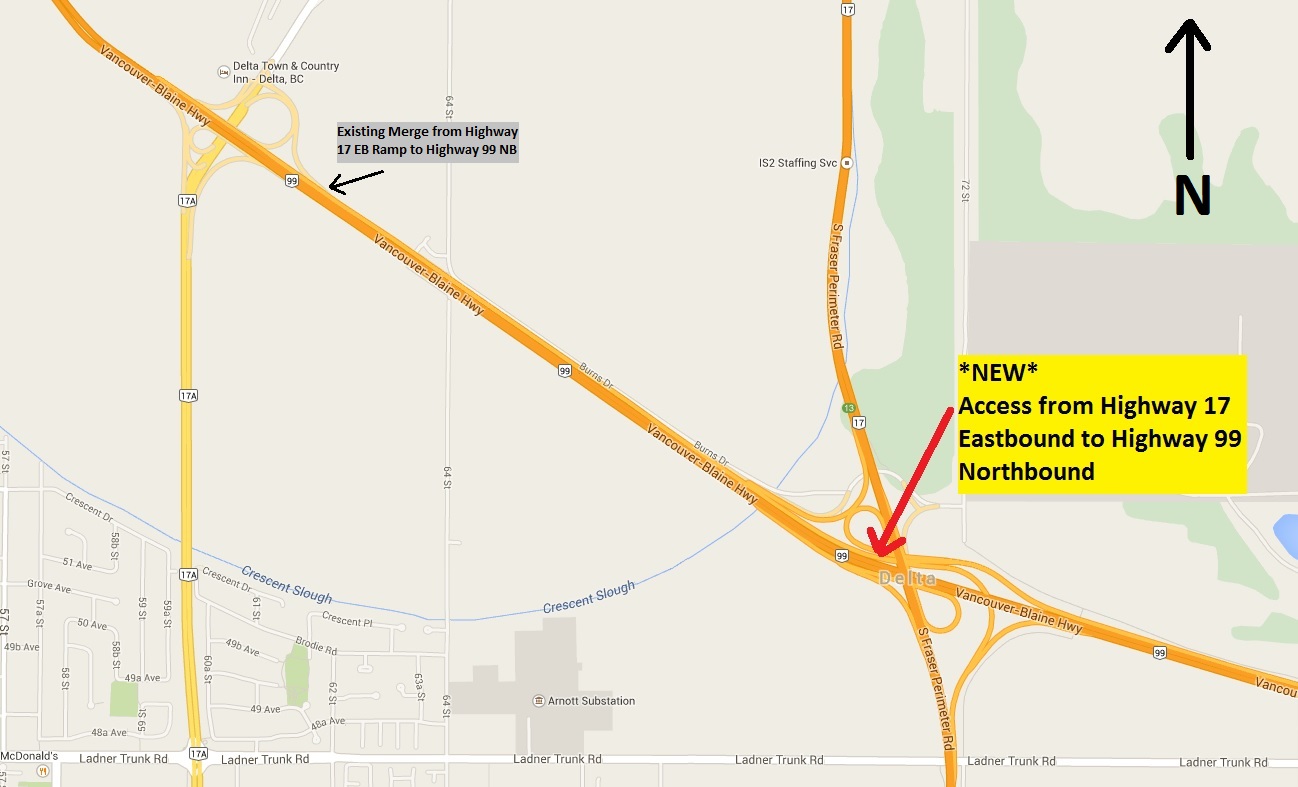 After the South Fraser Perimeter Road (SFPR) project was completed, you let us know that more improvements were necessary to help with merging along the route. We got it. So, from that input, an additional access point from Highway 17 eastbound onto Highway 99 northbound was created to better manage traffic flow through the area.
BACKGROUND
A part of the SFPR project included managing and separating general traffic using barriers on Highway 99 northbound to help better manage the counterflow system approaching the George Massey Tunnel. This allows traffic coming from Tsawwassen and the ferry terminal along Highway 17 eastbound, to avoid traffic delays from Highway 99 when getting to the tunnel.
However, since the SFPR opened last December, monitoring the peak morning travel times showed traffic volumes on Highway 99 and the Highway 17 road network were a lot higher than originally projected. Why? Well this usually happens when there are delays on the Alex Fraser Bridge, the only other south of the Fraser crossing point, and commuters head to the George Massey Tunnel crossing.
NEW HIGHWAY ACCESS
Drivers on Highway 17 eastbound now have an additional access point to merge onto Highway 99 northbound, located at the Highway 17 overpass, where overhead signage indicates the merge lane to the left. This lets drivers join Highway 99 traffic, and use the northbound counterflow lane, when available. This should really help Tsawwassen and ferry traffic in reaching the Massey Tunnel.
Construction began on the new access point in mid-October and opened to traffic the morning of December 14, 2014
Please let us know your thoughts on this new piece of infrastructure.
Share this page: