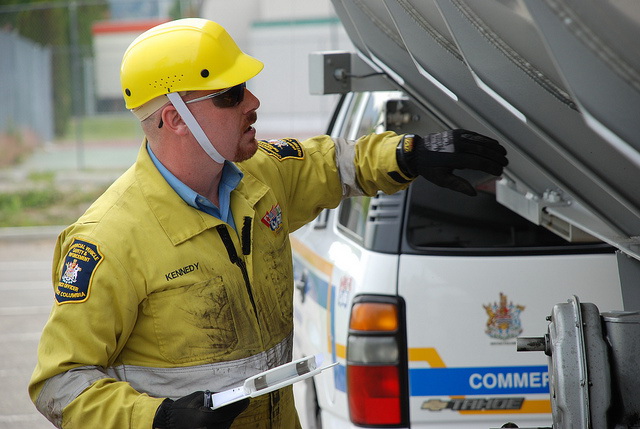 *COMPETITION IS CLOSED*
There are many ways to describe what it's like to work for the ministry's Commercial Vehicle Safety and Enforcement (CVSE) branch.
Experienced and aspiring vehicle safety officers and inspectors now have the chance to add their skills to CVSE's province-wide effort to make British Columbia's highways safer.
We're looking to fill positions in three job types:
Area Vehicle Inspector
Commercial Transport Enforcement Officer
Carrier Safety Inspector
Area Vehicle Inspector
On the job: An Area Vehicle inspector works on the go, independently monitoring and inspecting vehicles, loads, licences, insurance, drivers and carriers to protect highway infrastructure, and the people who use it, through enforcement and education. This position also focuses on inspecting and certifying school buses for safety, and auditing inspection facilities.
What our team has to say…
"It's about belonging to a great team! It's also about working for a great organization, being able to learn and work together, and helping one another when one of our members needs guidance. Most of all, it's about having fun doing our job."
– Jose Cordeiro, Area Vehicle Inspector, Prince George
"I think the thing that I enjoy the most is the sense of belonging to a team of dedicated men and women that are passionate about making a difference and keeping highways safer."
– Terry Deacon, Senior Supervising Area Vehicle Inspector, Prince George
Commercial Transport Enforcement Officer
On the job: A Commercial Transport Enforcement Officer enforces compliance with the acts, regulations and standards that govern the road transportation industry, protecting travellers and infrastructure. Within the assigned area (there are openings from Vancouver Island to Northern BC) the position monitors roadways, operates inspection stations (stationary, portable and mobile) and conducts mechanical and safety checks on commercial vehicles. The officer also issues warnings and prosecution notices, and may delay or detain vehicles and/or drivers.
What our team has to say…
"I enjoy being part of the CVSE team because it is an exciting and diverse career with an outstanding work/life balance. I face new challenges every day, and feel proud of the fact that my job helps to keep the highways safer."
– Jesse Giesbrecht, Commercial Transport Enforcement Officer, Vernon
"I like the opportunities it offers, working with different people, working in different geographical locations, and the flexibility that comes with it."
– Duane Gill, Commercial Transport Enforcement Officer, Prince George
"I enjoy the comradery within the CVSE team and the challenge of working with industry to ensure compliance and safety on the highways."
– Betty-Ann Penner, Commercial Transport Enforcement Officer, Prince George
"What do I love best about working for CVSE? That's easy… I have the opportunity to positively affect public road safety by removing unsafe vehicles from the highway and by changing driver behaviours. This makes it safer for everybody using our highways."
– Bernie Bolton, Commercial Transport Inspector, Kamloops
"I really enjoy making a tangible contribution to road safety, be it inspecting a truck and proactively finding a problem before it becomes an incident, or stopping aggressive drivers. We are a close knit group, and I have met some of the nicest and most dedicated professionals in my service with CVSE. Our client base also makes for an interesting and often pleasant work experience as the majority of drivers are hard-working people who, for the most part, are appreciative of our contributions in making their workplace safer and keeping an even playing field for their industry."
– Toni Kristinsson, Commercial Transport Enforcement Officer, Tete Jaune Cache Inspection Station


Carrier Safety Inspector
On the job: A Carrier Safety Inspector independently resolves complex problems and applies decisions that significantly impact peoples' lives and businesses by monitoring carriers and drivers to ensure compliance with the National Safety Code Program. As part of the monitoring process, CSI's conduct investigations, interviews, inspections and quantifiable audits in accordance with national standards, and also provide training and seminars to industry and partner agencies.
We need skilled people to join our CVSE ranks across BC, including the Lower Mainland, Vancouver Island, Southern Interior, and the north. Do you think you have the abilities and drive to help keep our roads safer?
Please apply online by November 26, 2014. If you have any questions, please feel free to use the comments section below.
Share this page: