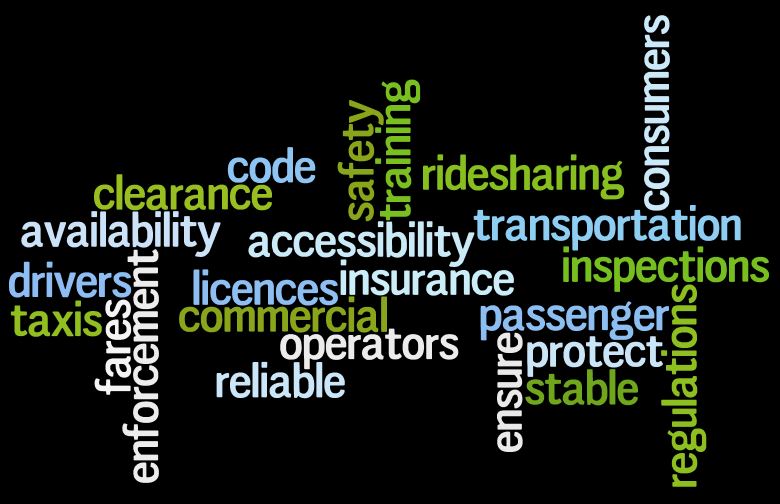 UPDATE:  March 7, 2017 — British Columbia plans to introduce a series of improvements to help the taxi industry modernize and remain competitive, in anticipation of ride-sharing services coming to British Columbia by the holiday season at the end of 2017.
In addition to these improvements, the Province will require the same safety standards for both taxis and ride-sharing providers in order to protect the public and drivers. As part of this, Class 4 licenses will be phased out for taxi drivers, and taxi and ride-sharing companies will be responsible for maintaining records that prove:
All drivers have an unrestricted driver's licence (no graduated licences) and are at least 19 years of age.

All drivers have passed a criminal record check for past convictions of violent or sexual offenses as well as other offenses.

All drivers have passed a safe driving record check.

Vehicles have passed regular mechanical inspections.
These proposed improvements are the result of extensive feedback and consultation with stakeholders throughout the province, including the taxi and limousine industry, local governments, business associations, accessibility groups, and transportation network companies. More:  https://news.gov.bc.ca/releases/2017TRAN0053-000498
There has been a lot of discussion about commercial "ridesharing" companies like Uber and Lyft operating in some cities in North America. What does it all mean – and what's at stake?
But first of all what is commercial ridesharing?
Commercial ridesharing is an arrangement where for profit, taxi-like services are provided by private drivers, using technology like smartphone apps. GPS is used to connect drivers with people seeking transportation, and payment is made online.
The B.C. government regulates the commercial passenger transportation industry, which includes commercial ridesharing companies, operators and drivers, to help ensure passenger safety, protect consumers and provide a reliable and stable business environment. (Please note that Uber and Lyft do not have a Passenger Transportation Licence to operate in B.C. at this time) Here are the rules and rationale for regulating commercial passenger transportation services…
The B.C. Passenger Transportation Act requires that:
1. Any vehicle operated by a person or company that is paid for transporting passengers must be licenced by the Passenger Transportation Branch. WHY: Oversight of the commercial passenger transportation industry creates a stable, reliable market for businesses and consumers, and ensures safety for passengers
2. Taxis, limousines and other small passenger-directed vehicles must be approved by the Passenger Transportation Board. WHY: ensure that transportation services, especially taxis, are available to all members of the public, including seniors and people with disabilities, and the operators are fit and capable of providing the service.
3. Fares charged by taxis, limousines and other small passenger-directed vehicles (which would include commercial ridesharing), are set or approved by the Passenger Transportation Board. WHY: to ensure a stable operating environment for business, and reasonable and predictable prices for consumers. This protects passengers and transportation companies from overcharging or under-cutting (which could affect safety or quality.)
All commercial passenger transportation operators must have:
4. A National Safety Code Safety Certificate WHY: to ensure that companies meet or exceed common safety standards for their drivers and vehicles.
5. Commercial vehicle inspections performed every six months. WHY: to ensure vehicles are mechanically safe and sound.
6. Clearance from the municipality where they plan to operate for any additional requirements. WHY: to ensure operators are authorized to serve a geographic area and have the necessary training to serve all members of a community, including people who need accessible transportation.
7. A commercial driver's licence WHY: to ensure that the driver is qualified to operate a vehicle of this nature, and meets higher driver medical requirements.
8. ICBC vehicle insurance that meets the requirements for commercial vehicles. WHY: to ensure that passengers are covered in event of damage or injury to them or their belongings, should there be a collision. This also ensures drivers are covered by insurance based on how they use their vehicle – personal use insurance may be void if the driver gets into a crash while transporting passengers for a fee.
While the lower costs of commercial ridesharing might be attractive to consumers (who doesn't like a deal?) or businesses wanting to do more business (opportunities to increase earnings?) or individuals looking to make a little extra money, provincial passenger transportation regulations are there for good reasons (as listed in the "8 Whys" above).
Companies or individuals that don't meet those requirements can be fined for advertising or providing a commercial passenger transportation service. The police, Commercial Vehicle Safety and Enforcement officers or Passenger Transportation Inspectors can issue tickets for $1,150 at roadside. Repeat offenders may be fined up to $5,000.
Hopefully this has shed some light on a complex topic, so that as a passenger you're not taken for an (unsafe) ride. And, if you're a driver, you grasp the consequences of ignoring passenger transportation regulations.
Want to know how to identify a licenced taxi, limo or other small passenger-directed vehicle? Look for one of these plates.