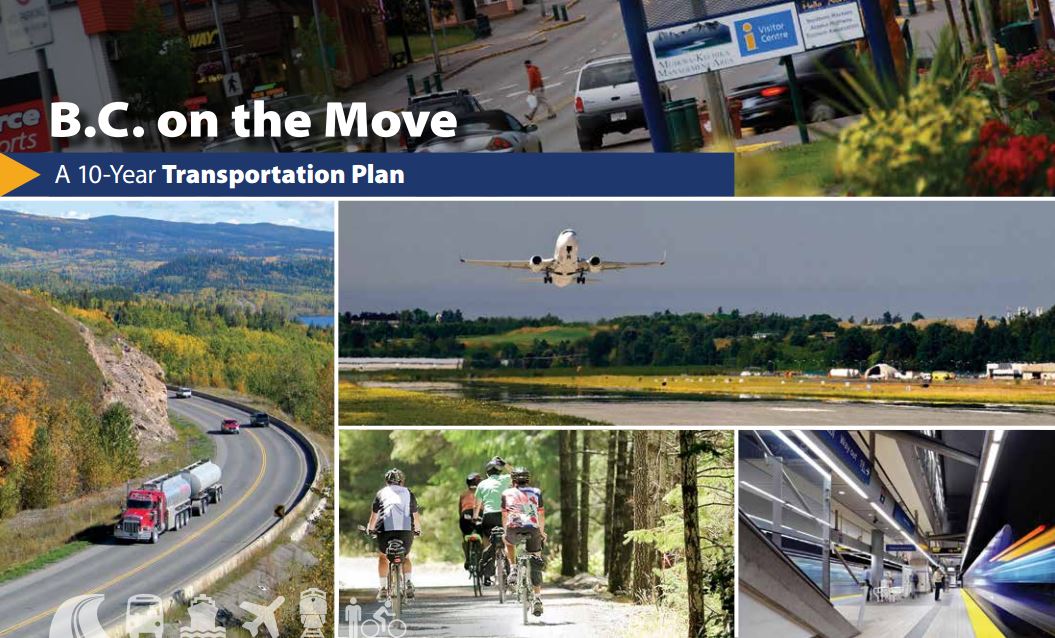 What should be the BC Ministry of Transportation and Infrastructure priorities and what are the best opportunities for us over the next decade? From growing the economy to increasing community connections and more, we want to hear from you on what you feel is most important to you.
This is all to fuel "BC on the Move," a new 10-year transportation plan.
Starting today (Oct 14, 2014), you can submit your feedback online.
For a bit of background, you'll also find a discussion guide available that includes an overview of BC's transportation network, a summary of the work that's been done and projects we're currently committed to, as well as highlights of some of our strategies moving forward.
We'll be accepting feedback around this plan until 4 pm on Friday, December, 12, 2014.
What happens next? We'll review your input, along with technical information and feedback from our key stakeholders (plus the discussions Parliamentary Secretary Jordan Sturdy had with more than 70 groups on Vancouver Island, including local governments and First Nations), and then share with you the "BC on the Move" plan in December, which will set out a series of short, medium and longer-term priorities for government.
These priorities will focus on:
growing the economy
moving goods and people safely and reliably
connecting and strengthening communities
maximizing collaboration and investment with partners including the federal government, local governments, First Nations and the private sector.
So what matters to you? It could be improvements to rural roads between communities or expanding cycling networks in your area or upgrades to a regional airport or better infrastructure for the trucking industry. You tell us. This is an opportunity to let government know about your most pressing transportation needs.
Besides the website, you can also provide your input in other ways
We look forward to hearing from you.
Share this page: