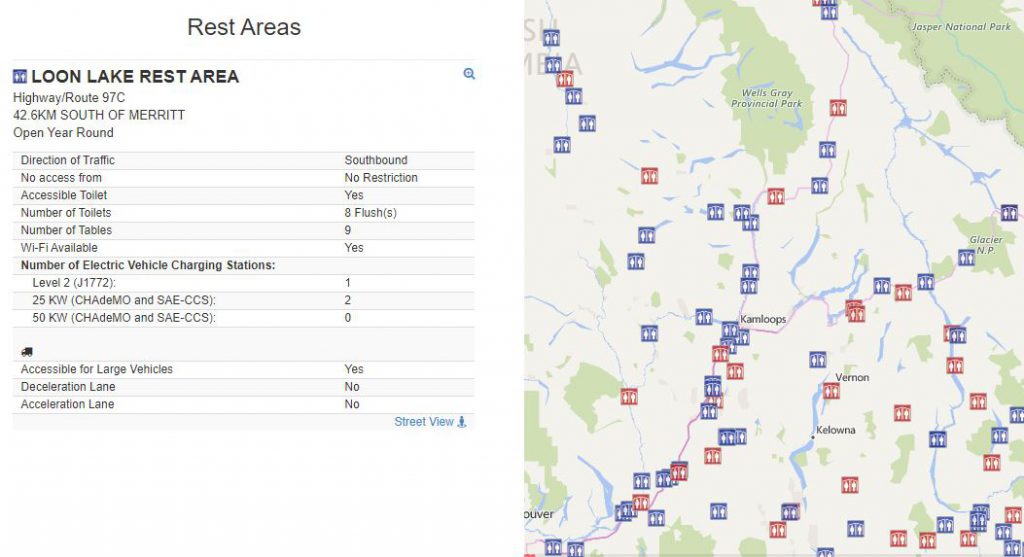 If you're like many of us in BC, on more than one occasion over the summer, you look out the window on a beautiful day and think ROAD TRIP!
To help plan your trip, and keep safety a priority, we recommend stopping at one of our BC provincial rest areas along the way. You will also see them on the DriveBC map, if you activate the Rest Area icon on the legend. They're great for a quick stretch, washroom break, a place to sit and eat or just to get some of that fresh air in your lungs.
Here's a breakdown of some basic rest area information:
The ministry has 170 rest areas around the BC.
They include large full-service heated facilities with flush toilets, sinks and other amenities, but there are also small pullouts with pit toilets.
A rest area is defined as a "roadside facility that is easily and directly accessed, offering the motorist toilets, picnic tables, litter containers and any number of amenities as may be available."
Some rest areas now offer Wi-Fi and electric vehicle charging stations.
Click on the icons and you'll find out more about the rest area. Added bonus for commercial vehicles: details include whether the spot can accommodate large vehicles over 20 metres in length, and if there are deceleration and acceleration lanes to enter and exit the area.
Ministry staff and maintenance contractors are responsible for delivering all aspects of maintenance at highway rest areas.
You are free to use any BC Rest Area to catch zzzz's while you are travelling, but we try to discourage motorists from using rest areas for more than four hours at a time. Rest areas can be dark, secluded and remote which leads to safety concerns regarding those camping overnight. BC Parks has many campsites available to travellers (plus day use areas) and we encourage you to camp overnight there.
And here are some facts about rest areas you might not know:
Rest areas receive daily maintenance in the summer, while smaller pullouts are looked after three times a week.
Many of the rest areas are located between communities and tend to be in more remote areas. In addition to the scheduled maintenance, random inspections of rest areas occur regularly.
Ministry staff conduct audits of maintenance contractor inspection records to ensure inspection frequencies and maintenance standards are met.
If you have any concerns about our rest areas, you can contact our maintenance contractors, get in touch with our district offices around the province or phone in an issue with the facilities on the mobile Report-a-Problem website.
Part of the BC highway experience is stopping at one of our rest areas. It gives you a chance to take in where you've travelled to and where you're going next. Do you have a favourite rest area spot?
For more information on B.C. rest areas, go to our Provincial Rest Areas page.
This blog was updated on March 2, 2020.
Share this page: