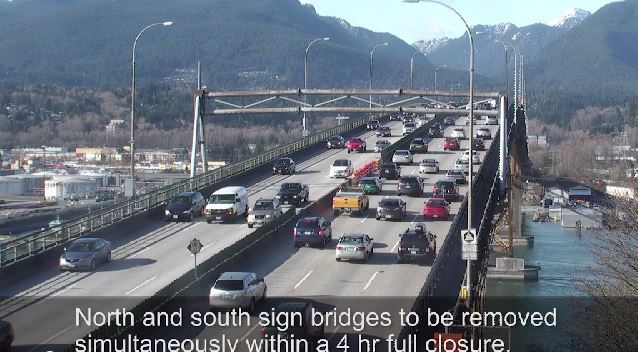 Before we can widen the Ironworkers Memorial Second Narrows Bridge sidewalks, we have to make a little room.
Last year, the ministry started looking at replacing the pedestrian railings on the bridge to improve safety for cyclists and pedestrians since the narrow sidewalks are a major constriction for travelers. After a thorough technical review earlier this year, it was decided to widen both sidewalks from 1.2 to 2.5 metres, install a new three-metre high safety fence and convert the bridge lighting to energy efficient LED lights. All good for increased safety and promoting mobility.
To do that, we must first remove the previous sidewalks before constructing the new ones. Unfortunately the signs are in the way. Specifically, the supports for the existing signs are located outside the existing sidewalks therefore the new supports will be relocated along the inside of the new sidewalk. The new sidewalk will wrap around the new sign bridge supports.
Watch the over night action happen in under 2 minutes: