It's full steam ahead for a second round of safety improvements on the Malahat, with work expected to kick off in May and finish in the spring of 2015.
Once this work is completed, over 50% of the Malahat will have median barriers. These improvements were identified in the 2012 Malahat Corridor study, and were also identified as a priority by the Malahat Advisory Group, which includes local residents, commuters, first responders and safety advocates.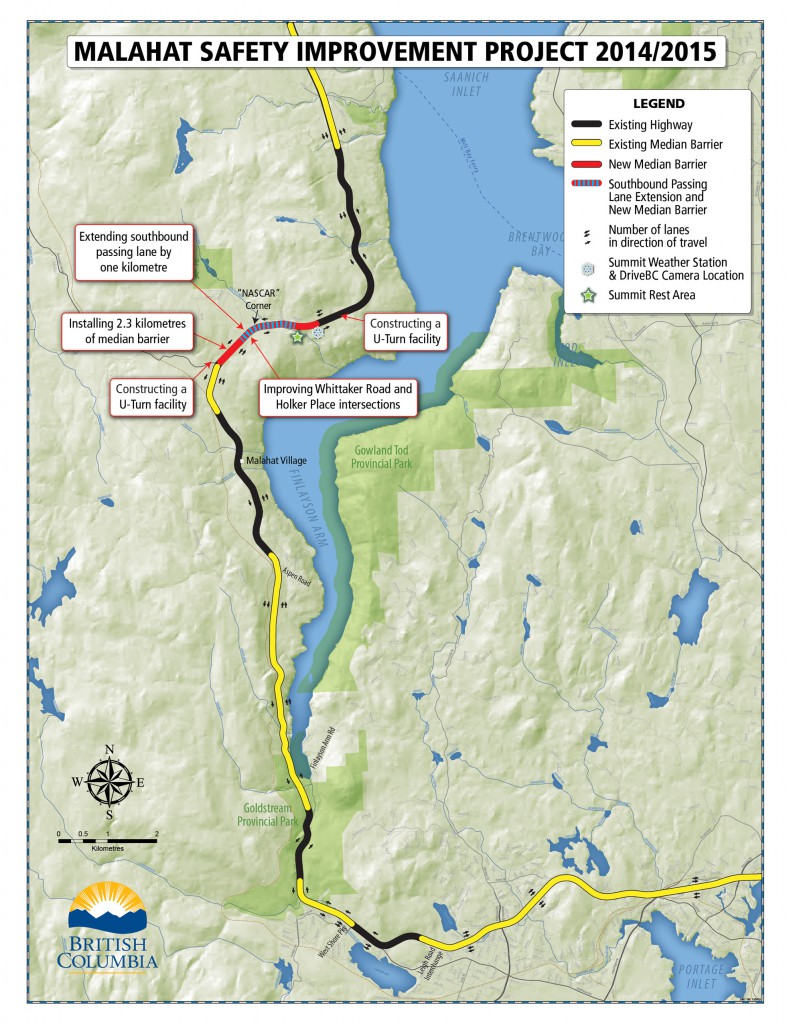 Those upgrades we're planning include:
extension of the southbound passing lane and median barrier of "NASCAR Corner" (as known to locals)
continuation of median barriers immediately north and south of this area.
constructing U-turns on the side of the highway at either end of the new barrier, located at the side of Shawnigan Lake road and on the side of the highway north of the summit
Safety of the travelling public is our number one priority, but improving safety with median barriers does affect access to some properties so that's the reason behind the U-turn lanes. They can be used by both emergency vehicles and other motorists trying to get to homes and businesses along that stretch of the highway.
Because this is a very large project, motorists can expect delays during construction. We will do our very best to let you know in advance of any delays via DriveBC and will try to keep those interruptions to the absolute minimum. Once a work schedule is in place, we will share it with you here.
With any news of Vancouver Island and transportation, we should also mention the Vancouver Island Transportation Plan, which we'll be consulting with you about really soon. We want to hear from you on how we can improve the safety and mobility of travel on the island, by land, rail, air and sea, helping us to outline the government's priorities for the next 10 years.
Do you have a question that isn't answered here? Let us know in the comments below and we will try to get an answer for you.