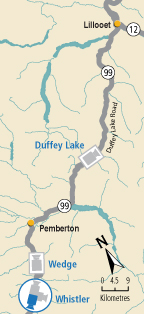 Today, we went LIVE with a new view of our provincial highways. This one is located on the Sea to Sky Highway, at the intersection of Highway 99 and Village Gate Boulevard, and gives BC travellers three views: north, south and east.
The Resort Municipality of Whistler partnered with the Ministry of Transportation and Infrastructure and funded the installation of the new highway webcam.
The number of highway cams continue to rise. We're currently at almost 300 camera locations and more than 400 highway views. That's a lot of different ways you can see the road before you take to it. Whether it's helping you plan your trip by taking a look at the weather or deciding not to drive into heavy traffic, they are handy tools to help you know before you go.