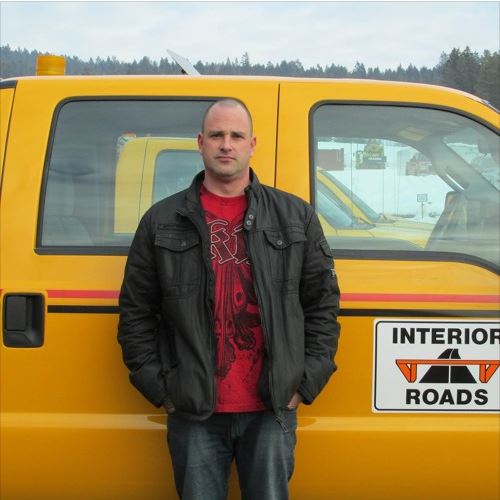 Perhaps no group monitors winter on B.C. highways more vigilantly than the ministry's maintenance contractors. They are on call around the clock, ready to battle the ice, slush and snow that can threaten travellers' safety at a moment's notice.
This is Part 2 of a Shift Into Winter interview series exploring how people, representing various professions, experience winter driving in B.C.
We began by talking to paramedics, and continue here with Interior Roads Equipment Supervisor Rob Schwartz. Here are a few excerpts from our conversation:
TranBC: Hi Ron. Tell us about yourself. What do you do to improve winter driving?
Ron: I work for Interior Roads – our head office is based in Williams Lake. And I make sure that we've got all our equipment in tiptop shape.
TranBC: What should drivers know about driving near winter maintenance vehicles?
Ron: Well, what we've noticed here is to make sure that drivers follow at a safe distance. It's critically important – that reaction time. And obviously we're in winter conditions here so you can't use the old two telephone pole rule. You've got to follow and use your judgement. Follow at a safe distance would be number one.
TranBC: What's most challenging about winter highway maintenance, and how do you overcome it?
Ron: It's the unpredictability of winter in Northern B.C. that is probably the largest challenge. The forecasts are great but they can't predict the future, obviously. It's what you see is what you get, and you have to react to that.
We have an extensive maintenance program here with the government of B.C. to ensure that our equipment is in tiptop shape. You're kind of only as good as the tools you're using. So by maintaining our units to the highest possible standards, we ensure we have a safe, effective fleet for our operators so they are able to meet the response times and maintain the roads to the Ministry of Transportation's maintenance standards, and hopefully have a safe night and get back home to their families at night.
So, most important – have a safe and effective fleet, make sure your drivers are educated as far as driving to road conditions and are comfortable operating the equipment they are in. I mean, obviously you don't want to put a green operator in a wing truck [truck equipped with a plow on the side] right away, or with a front plow. You want to make sure they've had a lot of time with more experienced operators.
We do a mentoring program here with our new hires. They get in the seat with someone who has many years behind the wheel and try to utilize that knowledge base.
Stay tuned for Part 3 of our Shift Into Winter interview series. In the meantime, we'd love to hear your winter driving stories or tips. Let us know how your winter driving season is going in the comments section below.
Share this page: