During the Malahat Safety Improvements project we have had some questions about the process we used to pave the corridor. It is called Micro Surfacing and we asked Project Manager Darren Englund to tell us a little bit more about it, so that we, in turn, could bring you up to speed on the subject.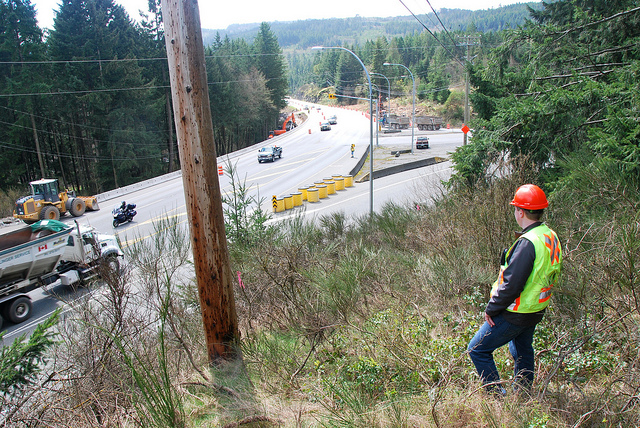 TranBC: Hi Darren, could you tell us what Micro Surfacing is?
Darren: Micro Surfacing is a cold-mix paving system that begins as a mixture of dense-graded aggregate, asphalt emulsion, water, and mineral fillers, which is then combined in and applied with a specialized paving machine.
TranBC: Could you explain why the ministry uses Micro Surfacing?
Darren: It is an excellent surface treatment which seals the road surface and prolongs the life expectancy of the underlying asphalt pavement, at a fraction of the cost of conventional asphalt pavement. Another reason we use Micro Surfacing (at intersections for example) is to increase the friction between vehicle tires and the road surface helping to reduce skidding accidents.
TranBC: Why did you use Micro Surfacing on the Malahat?
Darren: The existing asphalt on the corridor is not scheduled for rehabilitation for a number of years yet; However, with the current project's widening and lane shifts to accommodate the median barrier being placed, we did not want to simply eradicate existing paint lines the conventional milling or hydro-blasting way, as these eradicated markings have a tendency to still be visible to drivers, especially at night in wet weather. This often results in driver confusion as the eradicated markings typically contradict the new markings. Micro Surfacing gave us an economic way to eradicate all trace of existing markings, but also help improve the life expectancy of the existing asphalt pavement at the same time.
TranBC: Why didn't you just repave all the construction areas?
Darren: As the existing asphalt pavement through the corridor still has years left in its life expectancy, we didn't want to remove and replace this asphalt if a more economical solution to our problem existed. Repaving the area would have cost upwards of $4,000,000, with micro surfacing costing less than a tenth of that amount.
TranBC: Where can people find more information on Micro Surfacing?
Darren: An excellent resource on Micro Surfacing is the International Slurry Surfacing Association's (ISSA) website.
Thanks Darren for taking the time to clarify this topic for us. We also want to remind drivers that active construction zones can turn roads that you know well into unfamiliar territory. Road lines and pavement can shift on a daily basis as workers make changes. Please drive every drive like it is your first. Do you have any other questions he didn't get to? Let us know below and we will try to get an answer for you.