One of the best ways to see BC is by hitting the road. (Who doesn't love yelling "Road Trip!"?)
I remember moving from Smithers to Merritt, packing up all my belongings and hitting the Highway 16, turning right down Highway 97 until I drove into the Thompson-Nicola area. The scenery was absolutely gorgeous in mid-August, with some great stops along the way, but the breaks that really made the trip worthwhile were the rest areas. Whether you're travelling for work or for a bit of sight-seeing, it's really important to stop now and then for a little refresh – to eat, to take a bathroom break, to empty your garbage, to stretch those legs, etc.
BC has about 170 rest areas for you to check out and we've put together a handy BC Provincial Rest Area map for you to see where they all are. Click on the icons and you'll find out more about the rest area. Added bonus for commercial vehicles: this map shows which accommodate large vehicles over 20 metres in length, and whether there are deceleration and acceleration lanes to enter and exit the area.
You will also see them on the DriveBC map, if you activate the Rest Area icon on the legend.
Are these all the rest areas in our province? No. We hope to get there, but these are the ones maintained by us and the highway maintenance contractors. There are some provided by communities or in national parks (federal) or run by private businesses that we have not included but we hope to eventually make this more comprehensive.
Check out our Using Provincial Rest Areas Map page for more information.
So whether you're a professional driver, weekend warrior, commuter, sight see-er, or for any other reason you're taking advantage of those provincial rest areas, you have your own unique perspective and we'd like to hear what you have to say. Drive safely.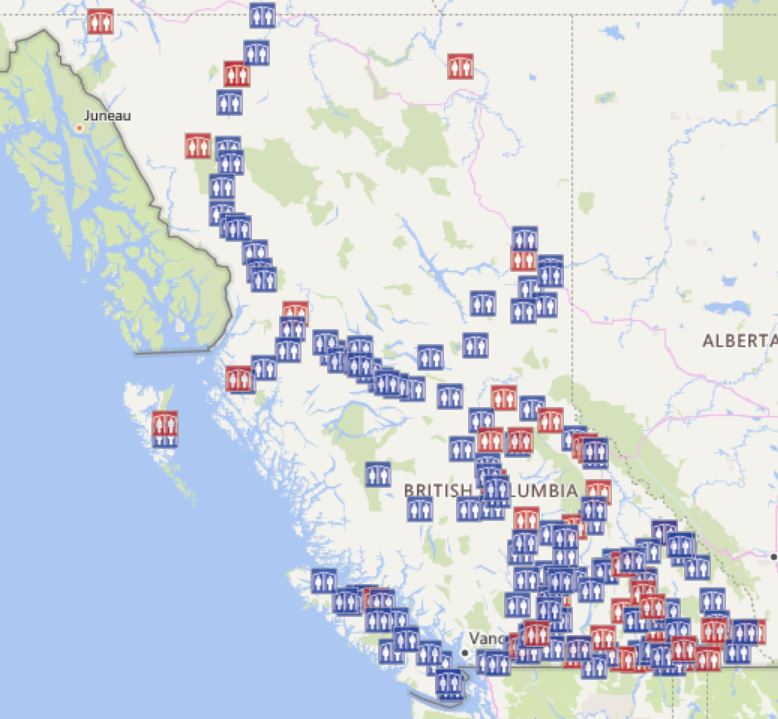 Blue icons on the BC Rest Area Map indicate those that accommodate large vehicles.
Share this page: