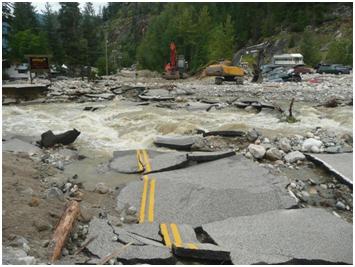 Mother Nature can be harsh on B.C. highways. From rock, snow and ice, to water, mud and debris of various kinds, she packs a serious punch.
As much as we guard against floods, slides, and the like, the Ministry of Transportation and Infrastructure, along with our maintenance crews, are inevitably confronted with big clean-up jobs every year. We had our fair share of challenges in 2012.
Here are five major highway clean-ups in 12 months.
One serious sinkhole near Topley
Highway 16 near Topley was closed to traffic on April 26 after a giant sinkhole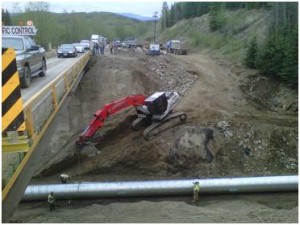 spanning two lanes was detected. Ministry staff and contractors discovered the depression was caused by erosion from rising spring runoff and a failing underground culvert. The location was particularly challenging because the highway is built high above the valley floor and the culvert sits about 15 metres under the road.
The first step was to build a temporary bridge over the sinkhole to allow for single-lane traffic to flow and support repair efforts. Using two excavators and seven dump trucks, crews then dug out the old culvert and installed a new, larger culvert before filling in the sinkhole.
Let it snow?!? Clearing Coquihalla's record snowfall
Perhaps no B.C. highway experiences the cold slap of Old Man Winter's hand harder than the Coquihalla Highway, and 2012 left us rubbing our cheek. The summit set a new area record for snowpack in March. Relentless flurries piled a 366-centimetre snowpack, exceeding the345-centimetre record set in 1999.
The Coquihalla is a particularly challenging corridor because conditions change from dry, wet, to ice as drivers travel between Hope and Kamloops, says operations manager Dennis Kurylowich.
"There are many different microclimates a person will travel through on the Coquihalla Highway, and […] significant hills to climb."
The ministry's avalanche team worked to reduce hazards while road crews pushed night and day to clear snow from the highway.
Watered down in the Southern Interior
Spring drenched the Southern Interior with a series of floods last year. Two of the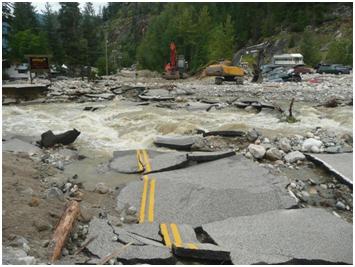 biggest floods hit like a one-two punch south of Sicamous on Highway 97A in June. First, debris clogged a Sicamous Creek culvert, causing overflow and damage to the highway at Two Mile. Then, a few kilometres away and just one day later, Hummingbird Creek fell victim to freshet, leading to yet another serious flood near Six Mile.
In response, ministry and maintenance crews built two temporary bridges: a two-lane bridge on Highway 97A at the first flood site, and a second bridge on a haul road (a road designed for heavily loaded truck travel), which allowed crews to pull debris during repair efforts. Crews also doubled the size of the culprit culvert. Highway repairs were completed in November.
It takes two to tackle giant boulder near Revelstoke
Crews made short work of a slide on Highway 23 north of Revelstoke in July, but they had to double their muscle to reopen the road quickly. After removing what debris they could by hand to open a single lane, the road crew rolled out the big guns (in the form of two loaders) to clean up the fallen trees, dirt and rubble, including a massive chunk of rock.
The two loaders worked in unison to remove the rock from the highway, allowing two lanes of traffic to resume within hours of the slide.
One washout, two roads, one big clean up
Shutty Bench Road (Highway 31), near Kaslo, succumbed to washouts after taking on excessive groundwater flows through sands and gravels in May.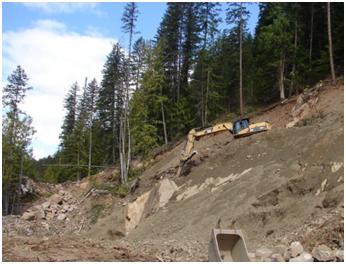 As if damage to one road wasn't enough, the failure rapidly loaded the slope below and generated a debris flow, which travelled downward about 100 metres, cutting a six-metre deep trench through Jacon Road as well.
The slide area was reconstructed with large angular rock, also known as rip rap, from a nearby quarry, and improved with a series of perforated drains. The rock was constructed as both a drainage blanket and stabilizing berm. About 1,500 cubic metres of rock (or, more than half an Olympic size swimming pool full) was used during reconstruction of the roads.
Of course, this isn't all Mother Nature dished out last year. And you can bet there are more challenges ahead in 2013. When it comes, ministry staff and maintenance crews will be ready to clear, rebuild and get you back on your way. In the meantime, we not only monitor weather and road conditions, but also take precautions such as installing retaining walls and catch fences in high-risk areas.
Did you experience a big highway clean-up in your community last year? Let us know.