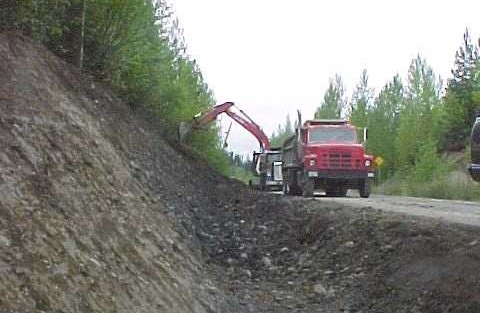 Maintaining more than 41,000 kilometres of roads across BC takes teamwork, fast reflexes and a solid game plan. You may be interested to know how the Ministry of Transportation and Infrastructure keeps the province moving in summer, so we've answered some of the most common questions we receive.
Q. Who is responsible for road and bridge maintenance in BC?
A. Most BC roads and bridges located outside municipal boundaries fall within our jurisdiction. We deliver maintenance services through our maintenance contractors across the province. BC is divided into 28 service areas, and maintenance contractors monitor and maintain roads within each of these areas. Here is a handy service area map to help you determine which contractors look after roads near you.
Q. How is maintenance work identified and carried out through the spring and summer?
A. As you can imagine, winter can be tough on highway infrastructure. As snow melts, a number of annual maintenance requirements rear their ugly heads. Come spring, it's not unusual to see roadside signs leaning after months of snow pushing against them, potholes from winter's freeze-thaw cycles, and salt/sand accumulation alongside highways. These and other maintenance requirements are widespread throughout each service area and are very difficult to address at the same time. To better manage road maintenance demands, tasks are systematically scheduled and addressed in a way that's approved by the ministry throughout the course of the spring and summer.
Q. How are contractors' performance measured by the ministry?
A. The ministry has a Quality Plan and Contractor Assessment Program, which outlines the planning, monitoring and auditing requirements related to work delivered by each contractor. There are three, very different, levels of measuring maintenance contractor performance, outlined:
Local assessment: A collection of frequent monitoring and auditing by local ministry employees.
Regional assessment: A third-party approach to performance measuring, where ministry employees from other parts of the province perform a thorough assessment of the local maintenance contractor.
Stakeholder assessment: A third party approach, where frequent highways and side road users such as RCMP, emergency services, school districts, courier services, commercial vehicle operators, bus companies and so on, offer their individual assessment of the maintenance contractor. The ministry uses information from all three levels of assessment to determine how each maintenance contractor is performing.
Q. What can I do if I see a highway problem that needs to be fixed?
A. All our maintenance contractors operate around the clock, year-round. We encourage you to report all highway problems to the maintenance contractor responsible for the area, so they can respond accordingly – just give them a phone call on their toll free number (or email them) and describe the problem and location. Or, you can also report a problem through DriveBC.
This web page breaks down the service areas and shows which maintenance contractor oversees which area, contact information included. Spotting and repairing highway problems demands a team effort between the ministry, contractors and drivers. We always welcome your feedback.
Share this page: