It's 227 down…53 to go. That's the score for how many sites on B.C. highways have been repaired from last year's extreme flooding in the Peace Region, and how many are up for fixes this year and into next.
When epic rainstorms last June and July pummelled and soaked 40,000 square kilometres of the area, people from all over B.C worked to re-open 150 flood-damaged roads. Between the widespread destruction and northern B.C.'s short construction season, it wasn't possible to put everything back to its original state last year. So this summer, we're working toward restoring 53 sites to their pre-flood condition, and removing detours and temporary bridges.
Work on 11 new bridges is a big part of the effort. The Dangerous Goods Route bridge in Dawson Creek is under construction and will be completed this fall. Brassey Creek Bridge, on Highway 52, is being designed and tendered for construction this year. Design for Road 271V and Wildmare subdivision road bridges and six bridges in the Pine Pass is underway. A new 4.7-metre diameter steel culvert will be installed this fall on Hwy 97 where there was a large slide at Grizzly Creek, and the road was lost and a gas line exposed.
On top of the bridge work and the minor clean up being done, there are several sites like Cache Creek Hill on Highway 29, Rose Prairie Road 101 and Independent Road 193A that require additional engineering assessment to determine how they can be restored. These sections will be designed and completed over this year and next.
In addition to these repairs, our "regular work" slated for this summer includes more than 26 kilometres of side roads for paving or seal-coating, and widening, strengthening and surfacing of 9.5 kilometres of Stewart Lake Road. Other side roads to be strengthened, gravelled and graded include Stuckey, Alderdale and North Rolla Roads. On top of that, there will be intersection improvements along Highways 2 and 97, and an enhanced dust suppression program.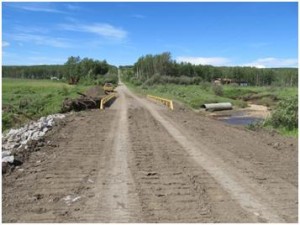 We're well into Peace flooding cleanup – Round 2 and are going the distance to get our roads back in tip-top shape. At the end of this year, it's estimated that only about 15 sites will require further efforts in 2013. (Round 3)
Between the flood cleanup and our usual work, you can expect to see a lot of construction activity this summer and fall to improve our northern roads for locals, visitors and industry. So, wherever you may be in the Peace region, be sure to slow down in the cone zone.