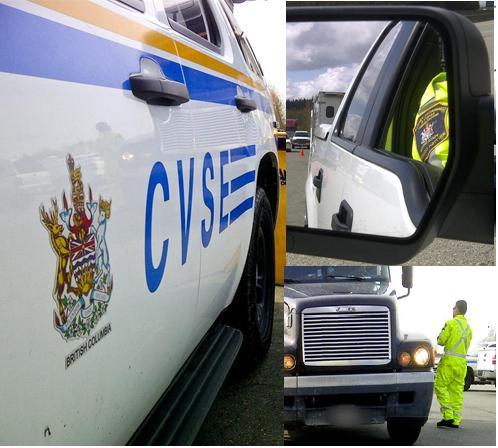 If you operate a commercial truck in B.C., or if the new season of Ice Road Truckers has inspired you to research the business of big rigs, then let the Ministry of Transportation and Infrastructure be your first stop for B.C. commercial transportation information.
Commercial trucks play a big role in moving goods across the province. Our Commercial Vehicle Safety and Enforcement Branch (CVSE) makes sure commercial carriers follow safety regulations to help protect motorists and roadways. The CVSE branch is responsible for enforcing a wide variety of standards and regulations, making it a bit overwhelming to start cruising for information. That's why we asked CVSE for their top five frequently asked questions.
1) What class driver's licence do I need?
B.C. has eight driver licence classes, but to drive a big rig, you'll need to achieve this class level:
Class 1: Semi-trailer trucks and all other motor vehicles or combinations of vehicles except motorcycle fall into this category.
To learn how to drive a big rig, ICBC provides a list of steps on how you can get a commercial driver's licence.
2) When towing a trailer is it necessary to have more than a class 5 driver's licence?
A Class 5 or 7 passenger car driver's licence allows towing trailers up to 4,600 kg. To tow a trailer that weighs more than 4,600 kg, you need:
A Class 1, 2, or 3 driver's licence, or
A Class 4 or 5 driver's licence with a heavy trailer endorsement (code 20), or
A Class 4 or 5 driver's licence with a house trailer endorsement (code 51)
3) Do I have to report to scales if I'm bobtailing? Why? (Bobtailing is term used when a commercial truck is driving WITHOUT a trailer attached).
All commercial vehicles with a licensed Gross Vehicle Weight (GVW) exceeding 5,500 kg are required to report to scales (aka inspection stations), including those being used for bobtailing. Vehicles are checked at the scales for safety items which remain important regardless of whether the vehicle is being used temporarily for personal use.
4) What is a Box 2 Notice and Order?
A Notice and Order is an enforcement tool requiring certain actions to be taken. Police officers and peace officers may issue a Notice and Order. A Box 2 Notice and Order requires a vehicle to be repaired and presented promptly to a Designated Inspection Facility for an inspection. An Authorized Inspector at a Designated Inspection Facility will conduct the vehicle inspection and complete an inspection report. A passed inspection report must be provided to the Commercial Vehicle Safety and Enforcement Branch within 30 days.
The consequence of not complying with the order is that the vehicle will not be allowed to operate on a highway, nor will the vehicle be permitted to renew its licence and insurance. It is also an offence to operate a vehicle if the Notice and Order has not been complied with.
5) A police officer or peace officer gave me a Notice and Order; where can I take my vehicle for an inspection?
A Notice and Order issued against a vehicle by a police officer or a peace officer requires that the vehicle be repaired and presented to a Designated Inspection Facility for inspection. Locations of all Designated Inspection Facilities can be accessed at an ICBC Driver Services Centre, Autoplan Agent or via this PDF. Alternatively, you may contact any Commercial Vehicle Safety and Enforcement Branch office for the information.
If this list has piqued your interest, click here for answers to other important questions and you'll be well on your way to learning about what it takes to be a top notch trucker in B.C.
This story also translated into Punjabi.