Do you have a question for the CVSE? Contact them directly here.
The Commercial Vehicle Safety Enforcement Branch (CVSE) makes sure commercial carriers comply with the regulations surrounding moving goods across the province. It is a vital component of the work we do here in the BC Ministry of Transportation and Infrastructure. Steve Bauer, former Supervisor of the Nordel Weigh Scale in the Lower Mainland, took time to answer some questions about his position and the role of the CVSE in keeping commercial transportation moving safely across the province.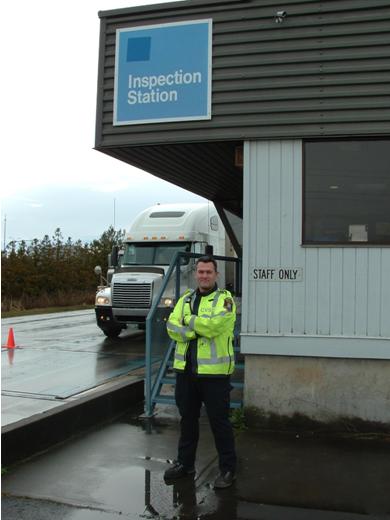 Q: What does a day in the life of a CVSE officer look like?
A: Actually, no two days here are ever really alike. The station is a constantly changing environment with new faces and new scenarios on a daily basis. Did you know that the Nordel Weigh Scale sees approximately 350 trucks per hour? That adds up to an incredible amount of volume in a single day.
Traffic volumes like that require a tight knit team and I can honestly say that we have a real camaraderie here at the station. I am currently supported by seven (soon to be nine) full time staff. Our Commercial Transport Inspector, whose position resides solely at the scale, will be joined by two more full time Inspectors at the end of March. There also are four Commercial Transport Enforcement Officers (CTEOs) at the station. They have a unique hybrid role which allows them to be both mobile and stationary at the scale when required. In addition to those officers, we recently welcomed two new staff members to our team who are in the training process to become CTEOs. Commercial Transport Enforcement Officers spend the majority of their day on the road seeking out evasive offenders who do not check into the weigh scales. Their patrol is focussed on, but not limited to: Delta, Richmond, New Westminster and Burnaby.
Q: Which leads to our next question; could you explain why the CVSE is so invaluable to the safety of the travelling public?
A: CVSE officers are, quite literally, experts in the field of commercial vehicle transportation safety and regulation. The decisions they make regarding compliance and enforcement, keep the province's highways safer for the motoring public. It doesn't get much bigger than that.
Q: What sort of questions do you hear most often about Commercial Vehicle Safety Enforcement?
A: Actually, I hear a lot of questions and sometimes people think their question is kind of silly, so, would like to stress that there are no silly questions. It is important for everyone to know that CVSE officers are here to answer any questions they might have and to use us as much as possible. We are trained in a variety of Provincial Acts and Regulation, Policies and Procedures which allows us to help educate drivers and would rather answer a hundred silly questions, than have to enforce compliance because no one asked.
Steve has been working with the CVSE for 13 years, and before joining the team, he worked in the trucking industry, driving North/South between Oregon, Washington and BC. His experience in the commercial trucking industry gives him the ability to understand life behind the wheel as well as life behind the scale. Thanks for sharing Steve!
If you have some questions about CVSE and the work they do, check out their Frequently Asked Questions (FAQ) Page.
Share this page: