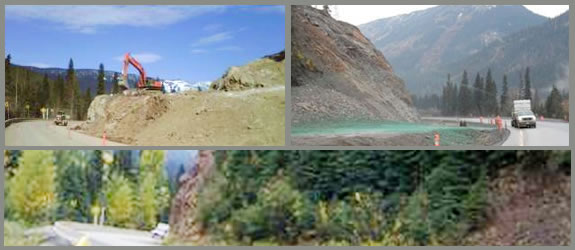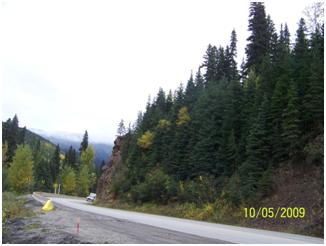 In our business, road realignment can be relatively routine. We take a winding stretch of road, straighten it out and make it safer.
It's usually fairly… straightforward. But every once in a while a project comes along that's a real challenge. Like the 11-kilometre realignment of Highway 97 through the Pine Pass.
There were five sharp turns in this relatively short stretch of Highway 97, and each one required drivers to slow to 50 kilometres per hour. On top of that:
The road was very narrow;
There were no paved shoulders and our crews needed more room for storing heavy snowfall removed by snow plows;
There were few chances for traffic to pass and sightlines were limited;
Drainage was poor, making the area susceptible to flooding.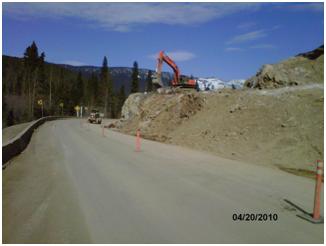 Oh, right, and the road was in an avalanche zone, too. And while we can't move the mountain, we can relocate the road to make things safer. So that's what we did.
We moved the road 300 metres away from the avalanche path, created 3.6-metre lanes and 1.5-metre paved shoulders and installed four new bridges. In all, 100,000 cubic metres of rock and soil were moved (if that doesn't mean much to you, picture about 40 Olympic-sized swimming pools filled with debris, and you'll have an idea of how much that is).
The efforts leading up to this major engineering and construction project were almost as involved.
There were consultations with the West Moberly, McLeod Lake and Salteau First Nations and archeological assessments. Also, the area was environmentally sensitive, due to a 2006 oil pipeline rupture near the Pine River (Chetwynd's drinking water supply) which the Pine Pass follows. The ministry worked with Fisheries and Oceans Canada, Transport Canada and the provincial Ministry of Environment to conduct environmental assessments, and we incorporated their recommendations into the final design.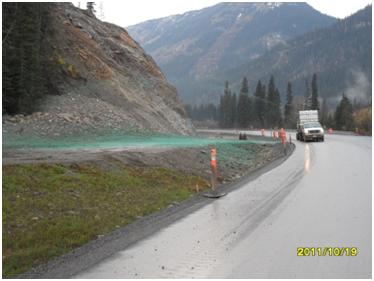 Where previously culverts restricted fish access, fish habitat was improved by installing two new bridges. Other environmental enhancements included tree planting and hydroseeding to ensure the eco-system will continue to sustain wildlife, birds and vegetation.
Working in a remote area comes with its own unique challenges, and this construction crew was working in a mountainous location, 83 kilometres south-east of Chetwynd and 227 kilometres north of Prince George. Added to that, was flooding in four locations caused by last summer's heavy rains, which cut into the already short northern construction season.
The federal government cost-shared with the ministry on the two-year project because it recognized the route's contribution to the oil, gas, mining and forestry industries. And knowing the importance of the project, our project manager, supervisory crew, construction contractor, environmental monitors and bridge specialists all worked together with stakeholders and other agencies on this challenging stretch, so that drivers now have a wider, safer route.
You could say the Pine Pass project team put in a peak performance on this complex 11-kilometre stretch.
Share this page: