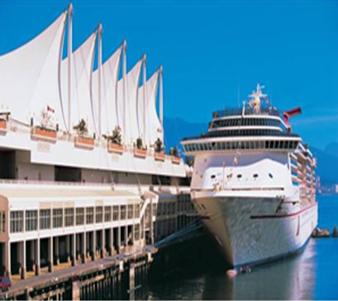 Did you know that a docked cruise ship uses more electricity in an hour than an average North American household does in almost a year? Faced with this statistic and the fact that Vancouver is the home port of one of the world's most popular cruise routes (Vancouver to Alaska); the Ministry of Transportation and Infrastructure, (along with Transport Canada, Western Economic Diversification Canada, Port Metro Vancouver, Princess Cruises, Holland America Line and BC Hydro) are supporting investment in the Marine Shore Power Program.
The program is a great initiative, and not just because it is the first of its kind in Canada (third in the world!), but because doing our part to help the environment is important. The use of shore power cuts marine diesel emissions by allowing ships to shut down their engines and connect to the electrical grid for power use while docked. Princess Cruises and Holland America Line "spearheaded" shore power use in the cruise industry by outfitting some of their fleet with onboard shore power equipment. Docking facilities at Canada Place have also been upgraded so that cruise ships with shore power equipment can connect to the grid on both the east and west berths of Canada Place. (As if Vancouver Harbour needed more reasons to be amazing.)
Emissions from cars are on the radar and we think that emissions from marine vessels should be too. If there were any doubts about the environmental benefits of this program, this estimate should really clear the air: The Canada Place Shore Power project will reduce emissions by about 3,500 tonnes of carbon dioxide per year. That is equal to the weight of 580 male elephants! By using clean, green energy creates better air quality in the Vancouver region and less waste in waterways. It also brings us closer to our government's goal of reducing greenhouse gas emissions by one-third by 2020. When you combine statistics like that with initiatives like this, it makes sense to hook up with shore power.
TranBC Trivia:
Did you know that each cruise ship that docks in Vancouver contributes $2 million to the local economy? Port of Vancouver is Canada's largest port, and will host 177 cruise ships in 2011.