Highway 101 is a spectacular stretch of sea-side scenic driving. Also known as the Sunshine Coast Highway, it's actually the last leg of the Pacific Coast Highway, one of the longest routes in the world, reaching from British Columbia to Chile (about 15,000 kilometres).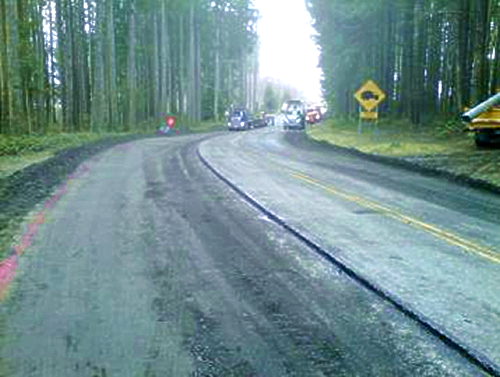 Along Highway 101's 140 kilometres (160 if you include the ferry ride), it meanders between Langdale and Lund and connects many coastal communities. It crosses fords and inlets and offers travellers stunning views of the Coast Mountains, the Straight of Georgia and the Salish Sea.
With all it has to offer, it comes as no surprise that more people are using this highway, which is why we've been working to meet these new demands and keep the road safe. In a previous post, we talked about how we're making things better for cyclists around Sechelt, but we've got a lot more going on.
A good portion of this highway is unlit, so we're looking for effective ways to make the road easier to see at night. That means reviewing the entire 140 kilometres, finding the problem areas and installing new reflective markers. The shoulders in these areas will be widened as well, making them much easier to navigate.
We've also been widening and repaving the highway in several areas, like Wildwood and North of Sliammon. In fact, we just finished painting lines on some of this new asphalt, which combined with the widening will make it easier and safer for vehicles to share the road with pedestrians and cyclists.
And if you've gone out to Lund recently, you may have noticed survey crews busy by the roadside. They're working on designing a new alignment for another section of the highway, so we can do more widening and straightening.
You can look forward to other similar projects in the future as we continue to upgrade this highway. It all adds up to a lot of work done on 101!