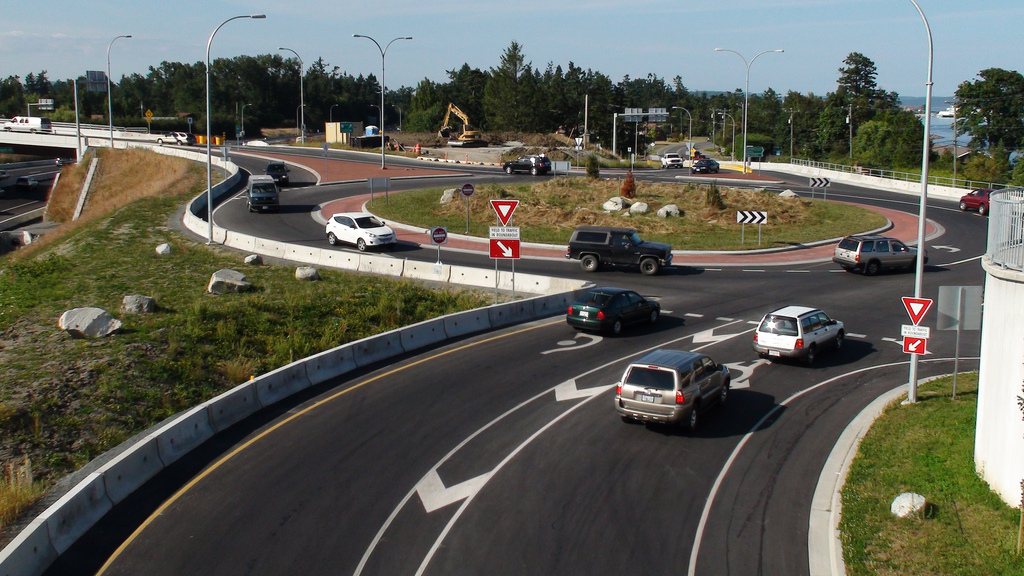 Roundabouts. They've been used successfully for decades throughout the world, and they're becoming an increasingly popular way to control traffic in British Columbia, too.
For a variety of situations, such as a considerable volume of traffic making left hand turns at an intersection or a significant history of collisions, a roundabout is a preferred choice rather than traditional intersections. Roundabouts reduce the potential for a serious crashes, like being t-boned or hit head on. In fact, studies have shown that roundabouts have 35 percent fewer crashes, 90 percent fewer vehicle fatalities and 76 percent fewer vehicle-related injuries. With numbers like those, it's easy to see why roundabouts are becoming more common.
If you don't have a lot of experience using roundabouts, they can appear a little intimidating at first, but we've got a few tips to make things easier:
Approach: Reduce your speed, watch for signs and watch for people and cyclists.
Yield: Yield to traffic in the roundabout.
Enter: Enter the roundabout to your right and continue counter-clockwise until you reach your exit. Do not stop once you are inside the roundabout. If you need to pull over (if an emergency vehicle is in the roundabout and trying to get by, for example) exit and pull over to the side.
Exit: Use your right turn signal to exit, watch for pedestrians and cyclists and be ready to stop.
If you'd like to find out more, we've got a useful roundabouts page you might want to have a look at. It's loaded with information, including animations and video that shows exactly how roundabouts are used.