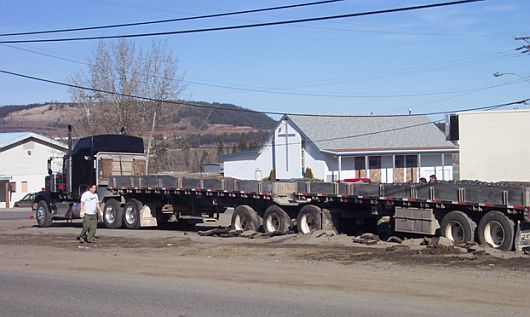 These photos illustrate why every spring, the ministry sets seasonal load limits on certain highways, for heavy vehicles.
This truck was headed northbound on Highway 97 with a load of steel balls for a mine. It met the commercial load restrictions at the time for the highway. However, after parking on an adjoining municipal road for a few minutes, the truck and its load sunk into the road.
During the spring, the road beds contain a high amount of moisture due to snow pack melt and heavy rains. This high water content weakens the road by making the base soft and spongy. Seasonal load restrictions protect provincial highways during the vulnerable period, by requiring commercial drivers to reduce the load they haul on specific routes, or to choose a road less affected by spring runoff. The ministry monitors the road network daily to add or remove the restrictions, as soon as roads need it.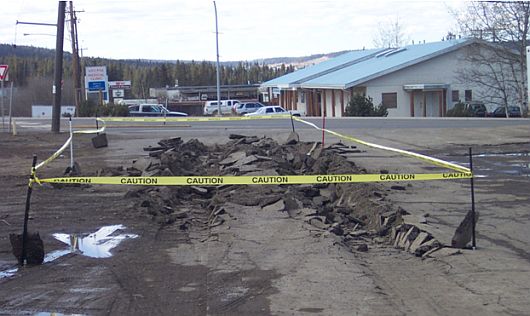 With spring thawing underway in parts of B.C., seasonal road restrictions are in effect on some routes. See: Seasonal Load Restrictions.
For more about how seasonal load restrictions are established, see: How Much Load Can that Road Hold?